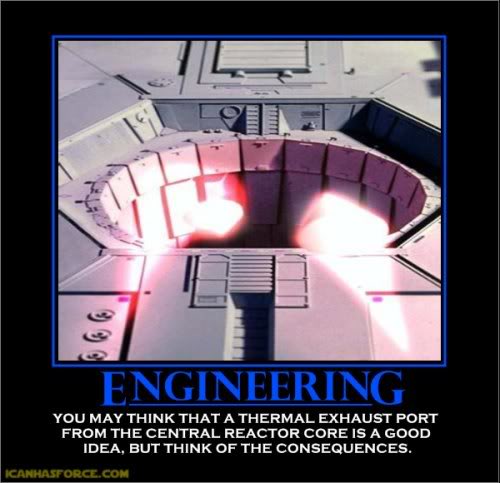 We've decided to occasionally focus a series of posts on themes.  You probably noticed that we did this a couple weeks ago when discussing engineering salaries.  This week, we're going to discuss how we each got into engineering.
I am guessing that, unlike my fellow bloggers, I got into engineering by accident.  That is, I never had any intent to become an engineer, but things worked out that way.
I did my undergraduate studies in physics with minors in math and geology, intending to go into computational geophysics after I finished.  While I was going to school, I met my husband, who was doing his PhD in electrical engineering.  All was well and good until I finished my bachelor's degree, and he was just starting on his dissertation.
Things might have worked out fine, except the closest school with a geophysics doctoral program is four hours away, and I was homeschooling my (then only) son.
I looked at several possibilities for master's program.  I thought something geology-related might be appropriate but found that the program I was looking at wouldn't be as math-intensive as I wanted.  Physics was a possibility, but I really had no desire to put myself through upper-level quantum mechanics unnecessarily.  It also turned out that there wasn't anyone who was really doing research that I was interested in.  And finally, there was the issue that I wanted to do my masters part-time, since I planned to continue homeschooling my son.
As it turned out, the program that met this criteria was electrical engineering.  I had taken a grad-level class in undergrad on computational methods in electromagnetics from a professor in EE.  I went to talk with him, and he was fine with me working part-time.  (I have noticed that engineering is much more accepting of this practice than science, although usually people are going part-time because they are working a day job.)  We also set up a research project I was interested in, working with a professor at another college.  Finally, I was going to be able to put my upper-level math classes to use.
Engineering was a lot different than I anticipated.  I had the illusion that it should be easy because I had a degree in physics.  As part of my program, I had to take four lower-level undergrad courses (core classes that the program required) and found them to be more difficult than the upper-level classes.  I was very used to learning how to do problems through logical thinking, and many lower-level engineering classes focus much more on process, not worrying about the 'trivial' and other solutions that we spent so much time discussing in physics.  I also found I was lacking a lot of very discipline-specific knowledge.  Trying to pick that up while also learning things from upper-level courses was challenging.  All in all, I found the grad-level courses easier to handle than undergrad courses, but that may have been because I was more interested in the topics covered in the grad-level courses.
I didn't end up doing the project I'd originally planned.  In the middle of my program, I was asked by my advisor to work on a project.  I wasn't crazy about it, but they needed someone and I was a warm body with a particular knowledge set they were seeking.  So I spent a year learning a lot about electrostatic discharge.  The following year, another project needed a person, so I spent a year learning about antennas and electromagnetic modeling.  The final year, I worked for several months on metamaterials.  It was probably lucky because the project I originally planned to do never panned out.  Additionally, I got a significantly more diverse background than I anticipated.  This enabled me to get the job I have now, which is supporting me while I finish my PhD in geophysics.
I am definitely not your typical electrical engineer as I don't spend a lot of time working with circuits and soldering irons.  I spend a lot more time with commercial software, generating models and data, and maybe a little time doing some programming in Matlab.  I spend more time working with a network analyzer than oscilloscope.  I was initially very surprised to learn that there are engineers who do this kind of work, although I imagine you'll see them more often in a research setting than industry.  That seems to work for me, but sometimes I am still surprised to call myself an engineer.