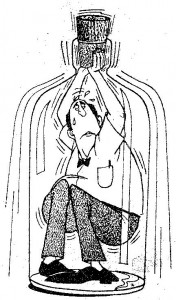 It's funny how information tends to come in waves.  Recently, I came across two articles that had similar themes about different victims.  The first was the notion that engineers that are over 35 are essentially unemployable.  The opinion piece from CNN discusses how "older" workers are perceived as too expensive to hire.  It also discusses how the point of mass layoffs is to eliminate the older, more expensive workers and foist more work on less people.  Fluxor has discussed the reality of this situation in many of his posts.
Shortly before this article came out, another one showed up on Bloomberg.  This one had the age of unemployability as 40, but around the same ballpark.
All of this has been discussed often on EngineerBlogs.  However, what brought this to mind was an article I came across a few weeks ago.  This one talked about the other end of the employment spectrum.  It's also something I've seen discussed in my classes when I've had a speaker from the career center.  This article posited that entry level jobs are no longer entry level.  This is exactly what I've been hearing from the career counselors: if you want a job after college, you need to have 2 or 3 internships while you're in college.  No one will hire you until you've already had engineering experience.
My take away from all this is that employers are becoming increasingly picky about what they want in an employee, and they certainly aren't willing to train.  One is supposed to invest four years (or more) into their education, work several internships (hopefully none of which will be unpaid, but that is becoming the norm in many other fields), and can only count on having that job for about a decade to maybe two before they may have to switch fields entirely.  Granted, that 10-15 years may provide valuable experience, but is it worth it given the cost of college and the fact that one may have to retrain to enter another field that may be more stable?