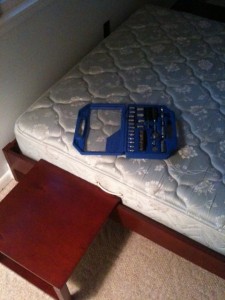 One of the problems luxuries of having a spouse who is also a mechanical engineer is that we are both completely capable of fixing stuff around the house. Moreover, DrWife and I both enjoy fixing stuff around the house, something that I don't think should be taken for granted. Recently, we just bought a new house which has left us with numerous evening tasks and weekend fun like: re-tiling the bathroom, installing new outlets and lights, painting, re-screening screens, assembling furniture (see picture), and general unpacking. And now that we've established what we need to do, now all we need to figure out is who's going to do it??!?!
It turns out, answering this question isn't always so simple. DrWife and I end up arguing more about this than just about anything else (I guess that's a good thing?!??). For the small stuff, it tends to work (after arguing) by splitting the job. I'll install the lights, DrWife will re-screen the screens. Whoever gets to that piece of furniture first can put it together. This works for about 90% of the things we do. However, sometimes we reach a point where we've said "enough" and I'm not doing this anymore. There's very few times that we leave something completely for the other person but it does happen.
It turns out that my breaking point is painting. After spending 3 hours on a step ladder with a detail brush no wider than my thumb, re-edging the wall-ceiling interface in our entrance room, I snapped. I've decided I'm done painting. All of the rooms can get painted (and some needed it), but I will not be the one doing it.
DrWife's breaking point isn't as clean. Her kryptonite is vacuuming. It's not that she'll never vacuum, but she would rather leave that to me because I have no qualms about vacuuming. Something about the noise or something, maybe that's why she doesn't listen to me…. ( 😀 )
Fixing things around the house and getting settled turns out to be a lot harder when you have a little one. Although, yesterday I was assembling our futon and a table and NanoGEARS was getting screws out of the bag and handing them to me. She's turning out to be quite the little (nano-)engineer.
So when it comes to stuff around your house? Whose turn is it to fix stuff? Do you split things equally? Are there particular tasks that you love/loathe to do?