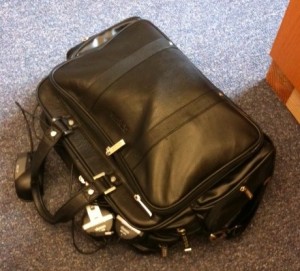 I think it's very apt that we're discussing "What's in my Bag" this week because I just returned home, at 1 am :-\ ,  from traveling. My bag is what I would call an "omni-bag", meeting all three (or four, depending on how you look at it) criteria: room for a full laptop, room for extra papers for grading or reviewing, and expandable to hold a change of clothes or two. The fourth is looks. I think Kenneth Cole did a very nice job on the styling. I previously discussed this bag, The Business Bag, on Engineer Blogs.
I bring up traveling as nice timing for this post because I find my bag tends to pick up some extra things that I normally wouldn't carry around on a daily basis. Inevitably, these things tend to stay in my bag for a few days before I finally clear them out. Since I returned home late last night, I didn't get a chance to clean out my bag before work today, so I'm giving you a sneak peak inside.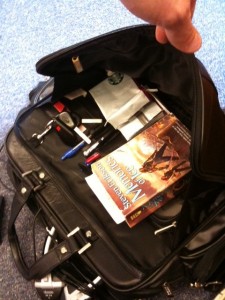 The stuff that's always in there includes my laptop, power cord, pens, USB sticks, iPhone cable, my office keys, and my university ID.
On a regular basis, there's an assortment of papers from either stuff that I'm reviewing, papers that I'm writing, or proposals that I'm preparing. These tend to accumulate until that particular task is completed and then I clear them all out. Of course, those just end up on my desk in a random pile, but I digress….
On this particular trip, I picked up one random thing, an empty Starbucks coffee bag, and I brought along with me Steven Erikson's Memories of Ice. The Starbucks coffee bag was given to me by my colleague at the place I was traveling from because if you return it to Starbucks, they give you a free cup of coffee. I'll be using that later today at the Starbucks on campus.
As for Memories of Ice, I'm currently rereading the series. I've read all but the last two books and I wanted to reread to absorb more of the story before reading the conclusion. (For those of you who haven't read Steven Erikson, it's ridiculously dense and you should probably take notes, lest you forget all of the details.) The reason I take a book with me, as opposed to an eReader (I use the Kindle app on my iPhone) is because of the FAA's insane regulations regarding electronic devises. When they change that rule, I'll probably ditch the book for traveling and just use my iPhone.
As for the bag, I've had it for about 8 months and I think it's fine. For daily use, it's somewhat bulky, somewhat heavy, and quite excessive. I still prefer it rather than having two separate bags (one for daily and one for travel). The best feature about the bag is the key hook on the inside pouch. The keys for mine and DrWife's cars are big and bulky, which are annoying to carry around in your pocket all day. And when I'm at home, I don't need my work keys so I switch between the two when I get to work. That's been really great, except when I leave my bag at the office (once in a blue moon) and I walk all the way to my car (about 15 min walk) only to find out I left my keys in my office. I better finish this post now before it turns into a rantpost about terrible university parking…