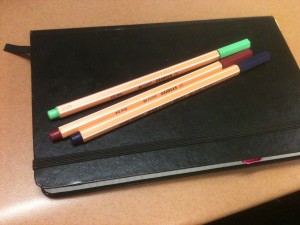 So this week, we're talking about what our essentials are that go in our bag. Because I have a very nice desk that is the only place I really work besides home, my daily bag contains my wallet, keys and phone. It used to have a book, but my phone does that now. And since everything I'm working on is on a remote server, I don't need to take documents back and forth. Since this would be a very short post otherwise, I decided to instead go through what I bring to academic conferences.
This can be divided into two parts: my luggage and my day bag. My day bag is a very nice black leather Samsonite bag which holds everything I need, while preventing me from deciding to pack the supplies needed for a small army. This bag contains:
Laptop and power cord
Conference booklet
Medium Moleskin notebook
3+ colors of pen (to facilitate diagramming)
Phone cord
Water bottle
Small snacks
USB copy of presentation in ppt and PDF
Laser pointer
Wireless mouse
Even if I'm not presenting, I bring my laptop in case someone who already saw my presentation has questions and I want to bring up slides. I have a USB version of my presentation in case there is a computer they want us to load everything on to, or my laptop is dying. Because I work on a Mac 90% of the time, I always save a PDF copy, in case PowerPoint decides to eat or corrupt my equations. However, I am incapable of taking good notes on any electronic device I own, because I like to draw pictures. Hence, the Moleskin and the pens.
I started packing snacks after being in too many session that ran late, leaving no real time for lunch. I also bring water, because while many places think to offer coffee, and even tea, apparently no one is expected to want a cold beverage.
My luggage is pretty much clothing. My field tends to wear business casual at conferences, with industry folks typically wearing slacks and logo polos, and academics wearing slacks and button down shirts sans tie. Most of the women wear the same general uniform, which doesn't work very well for certain body types (a discussion we've had before) . My typical conference last four days, and I often need to travel in the same clothes I may present in, so comfort is a concern. For cold destinations, I pack slacks, nice sweaters and two pairs of flats. If I'm going to be somewhere warm, my bag contains the following:
2 Eddie Bauer Travex Lily dresses
2 blouses with ruffled collars/ camisoles to wear under the dresses (because female fashion is complicated)
2 pairs of Clarks (or other comfy) dress flats
1 blazer with pockets (Because rooms are over-air conditioned, and sometimes you need a place for a microphone pack. Women's clothing rarely has good pockets, so it took me awhile to find a good blazer)
1 pair basic black pants
2 blouses
Sleepwear
Obvious essentials…
Makeup (eyeliner, mascara, Burt's Bees tinter chapstick and one color of eyeshadow. Makeup makes me look less young, but since I never wear it, I try to keep things simple)
I try to make my outfits as interchangeable as possible, to minimize how much I need to pack. I still don't think I will ever get down to the two pairs of pants, two shirts, one pair of shoes = 4 outfits approach that some of my male coworkers do. I've come to realize the I should always pack two pairs of shoes after one too many rainy conferences. It's one thing to have wet feet all day: it's another when your shoes are still wet the next morning, and it's not raining anymore. Dry shoes are an amazing feeling after that.
What do you bring to conferences that you don't normally carry around?