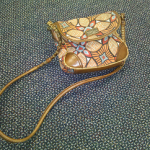 I carry around three bags for my daily routine of going from my house to car to worksite to car.
Bag 1 is a handbag. It is pretty and contains a tiny tape measure, wallet and smartphone. I carry it when I go out to lunch. I like to have the tape measure because I often see something that spurs an idea and like to get an idea of scale.
Bag 2 is a gym bag. It contains both my gym clothes and another change of clothes in case I spill something on myself before a meeting. I have a funny habit left over from before cell phones which is to keep comfy shoes in the gym bag in case my car breaks down and I have to walk to a service station.
Bag 3 is a backpack, of which the contents change frequently since I work for a few different companies. Right now it contains a few pairs of Nitrile gloves in case I need to put my hands into an oily piece of equipment. I have my TI-83 calculator and a notebook. Sometimes I text myself things I would normally write down in a notebook, but there's no substitute for a big limitless drawing area.
I'm also carrying around a short term project laptop. It is a Field Service laptop and is used to connect to all kinds of industrial equipment. It's got every possible connector port including a 25 pin printer port connector. It has lots of different sized ports for PLC memory cards too.
Some days I work at an office. It's much more relaxed than working on a factory floor and there's a fancy printer! Even though I hate killing trees, I get a ton of pleasure in printing data sheets and stuffing them into my backpack for later reading. It's great to be on a plane and find a bundle of chip papers from a former project…hello old friends!
Anyone else carrying around old data sheets, tape measures and Nitrile gloves? I bet you are!