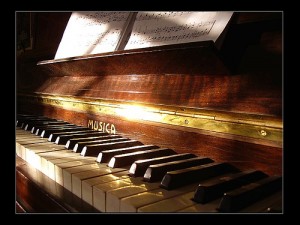 I think most engineers are optimizers. Many times, this works to our advantage. In the case of a project, it means you might try and squeeze out the last bit of efficiency out of a part in your system. Or in the office, it might mean coding up a bit of software that will make your job a little easier and automate mundane tasks. But what about when it doesn't work? What about when you have a non-optimal solution?
I was dealing with this in my personal life this weekend, and I felt my engineering brain kicking into high gear. I'm going to try and replay the stream of consciousness for you below. I don't think it will quite capture all of the thoughts that went through my head, but I think it will be enough to recognize the feelings if you have ever had them.
The situation occured when I was playing the piano in one of our downstairs bedrooms and my wife asked me to stop playing. She had a headache and I dutifully stopped playing, though not without being a bit incredulous. She suggested I finally build that sound proof room we've been talking about building for me, both for music (which I have been playing less often these days) and for recording my electronics podcast and my general engineering podcast. It would be for keeping outside noises out (for better recording) and keeping loud noises in (for my wife's sanity). Here are some of the thoughts that started running through my head:
Oh yeah! I have been meaning to finally build that sound proof room.
I suppose I would build it in the basement, as that has the most room and it would take away the least living space from the rest of the house.
Ah, but wait, the basement has a lot of native sounds down there. The water pipes are noisy anytime someone runs the water anywhere in the house and if the central HVAC kicks on for any reason, it's quite loud.
I suppose I could reroute much of that stuff. I could move all of the water lines to be avoid the space I'd like to use. And I could probably somehow quiet the HVAC.
Ah but even still, the basement ceiling is pretty low to start with and if anyone walked anywhere oh the creaky old floor, that sound would bleed right through. And all of this is assuming I could breathe in this tiny little space, since the ventilation would be limited.
But wait! What if I tore down the shed outside and built a new studio and office out there? I've thought about that before?
Yeah, but the logistics of getting electricity and heating all the way back to the space where the new structure would fit would be insane. I'd have to rework all the wiring inside and even then, it'd basically be like building a whole other house back there.
If you're going to build a big structure like that, you might as well build a new house, right? You have the land for it, and it'd be just as difficult as getting a structure that size passed by the city council. So just build that second house, design in the sound proof room and knock down the old house.
Wait wait wait, that's dumb. If you're going through all that trouble and cost, you should just move! Sell your house, buy a new one and design in (or find) a place for a soundproof room.
I'd love to say this is just a small bit of craziness my mind drifted into for the day. But no, I've had this train of thought more than once, often coming to the same solution. If I want to play music or properly record a podcast, I need to buy a new house. Kind of ridiculous, isn't it?
All of this gets away from the thing I'm actually trying to solve. I want to play piano without disrupting my wife. Is there a better solution? Of course there is. In fact, she even suggested it to me after talking about the sound proofed room: use my keyboard and put on some headphones. But that's not where my mind went. My mind went into optimization mode and it took me down the wrong path. It took me down the path of analysis paralysis.
This is something I've actually discussed before on one of those podcasts I mentioned earlier; in fact, it was the first episode of the newer podcast (The Engineering Commons) where we discussed jumping off. Oftentimes it's more important to get started than anything else. This give you two things: momentum to build upon and a product to get feedback on (in order to iterate during future development). In the book, The Lean Startup (and elsewhere), this is called a Minimum Viable Product (MVP).
In my case, it was a little bit of both. The MVP would be to get playing music with a non-optimal solution (on a keyboard with headphones). If I really got into it, I could seriously consider options outside of that situation. I could rent a new place or in an extreme case, buy a new house. But hey, you've gotta start somewhere.
Have you ever experienced this feeling, either in your personal life or in developing products as an engineer?
Thanks to ramaadee for the picture of the piano.