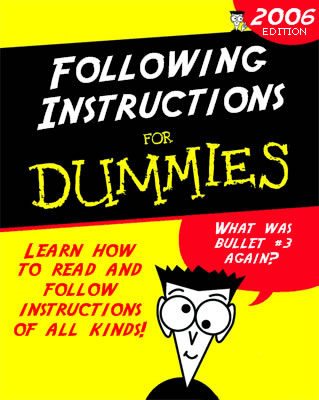 Last week, I wrote about two engineering stereotypes – the thinker and the tinkerer.  When I was attempting to add a bit of data to the fluff, I came across an article in Science Daily about how engineering stereotypes drive counterproductive practices.  In particular, they encourage engineering students to engage in practices that are actually harmful in a career.  Unfortunately, it wasn't applicable to last week's piece, but I found it worth discussing nonetheless.  (If you'd like to read the original article, you can find it here.)
The premise of the article is that engineering stereotypes are already prevalent in society and that students think about these when interacting with their coursework and classmates.  Specifically,
"There's a stereotype that engineers do things by themselves," Leonardi says. "So when students are asked to work in teams, they think, am I going to be disadvantaged? When I go to the workplace am I not going to be as valuable?"

In other words, students believed that if they weren't able to do a project alone, they couldn't consider themselves an expert engineer. Leonardi and his colleagues often saw groups splitting up group work, even if they were specifically asked to work on it together at the same time.
I found this idea interesting because it's actually very counter to what I've experienced.  That is, most students do not make an effort to work independently because they want to make themselves into good engineers.  My observation is that most engineering students were often good students in high school and felt like group work was a negative experience for them.  Good students often end up doing the bulk of the work in a group, and they feel that they share an unfair amount of burden in groups.  Realistically, this doesn't go away in college…and sometimes not even in the workplace.
Whether or not this is true, I will say that it's definitely something I've seen pushed in engineering classes.  If you're supposed to be a good engineer, that will be reflected on individual aptitude, which is generally believed to be shown on exams.
Another issue examined was how students reacted when given detailed instructions on how to build something: they ignored the instructions and tried to figure it out on their own.  Again, they said this was due to the fact that students believed that, as engineers, that's what they were supposed to do.  My feeling was that most of them had been capable of something similar in the past and/or like a challenge.  Therefore, I would attribute this behavior to ego about one's individual abilities more than believing a stereotype about engineers in general.
I guess I personally wasn't convinced that it was stereotypes causing the problem so much as individual students used to working a certain way and rationalizing it in retrospect.  I've seen this among students in several different disciplines (almost always male-dominated).  I think it has to do with the culture of 'smart people' who push themselves more than trying to adhere to a stereotype.  What do you think?