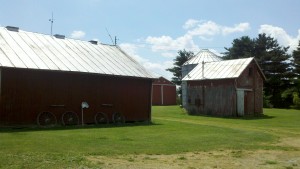 My wife grew up on a farm in Northwest Ohio. In fact, that's where I am right now, writing this post. It's a serene place. No sounds of the highway, lots of room for my dogs to run around, lots of fields and woods to explore and a laid back lifestyle. Though I grew up in the suburbs and I still enjoy the city (had a great time in SF a few weekends ago), I always enjoy my time in the country. It's a relaxing experience and I recommend it to everyone.
It got me wondering though. Is it possible to live in the remote areas of the US though and be a successful engineer? My wife has always enjoyed the country and stated her preference to move back a more "spread out" part of the US at some point. I've been thinking about it too, since I asked about moving anywhere for a job. What if the role was reversed and it wasn't that you were being asked to move to a specific location for a job that you loved; what if instead you were moving to an area you loved and you wanted to continue trying to work as an engineer?
I've had this discussion with my wife when we were starting to plan our married life together. If we were to decide to move somewhere, where could I go as an electrical engineer and ensure that I'll get a job? During our future-planning discussion, I mentioned that there are really only a few technical centers that seem to make sense for someone with my skill set; and in fact, I've written about the technical areas in the US before, but will also recap it here. Silicon Valley was an obvious one, there are lot of companies out there. Same with the Washington DC metro area, because of defense contractors (though that would not be my first preference, nor do I have a security clearance). Boston is another high tech area with lots of growing robotics companies. I could have moved back down to Austin and tried a few of the tech companies down there. Or gone up to the pacific northwest such as Seattle and Portland where there are a smattering of hardware companies (and where a few of my friends have been flocking more recently). These are the bigger ones that I stated, but of course there are smaller markets. In fact, I decided to stay in a smaller market. Cleveland doesn't have a glut of tech jobs, but I know the landscape and had a few options hardware-wise that I could have taken advantage of. I'm sure bigger cities throughout the US have similar situations, but often these are tied to the fact that there are many jobs in cities and the statistics say that of the hundreds of thousands of jobs available, some are bound to be hardware engineering positions.
So what if I wanted to move to a more remote location? Well, had it been about 20-30 years ago, this might not have been such a bad proposition. You know all the manufacturing jobs that I and many others lament moving over to Asia? Well those actually used to be done in the US, oftentimes supporting small towns in rural areas. Their disappearance is the plight of many countryside folk, as it will be when the factories decide to move out of China to the newest low-cost region of the day. The problem is that it's often the farmers coming in from their fields to manufacturing work that produces the cheapest labor. And when the jobs leave, the farming ways are often already pushed off to corporate farms or the small percentage that remained farmers. Regardless, this happened quite often in the midwest, where I'm writing from. Thirty years ago, there were many large factories out here, many of which would have required an engineering staff for the manufacturing capabilities, if not for the design side of things. Sure, there are still a few manufacturing outfits in the rural areas of Ohio, but it's nothing to count on these days. So that's out. What else is there? Am I doomed to the metropolises of the world if I want a steady paycheck?
There are a lot of jobs out there that involve engineering (and sometimes selling), but one job that readily comes to mind that does not require a cosmopolitan lifestyle: Field Application Engineer (FAE). No, it's not because it has "field" in the title, though that's a fun coincidence. It's actually nothing about the job that makes it more rural-friendly than city-friendly. I just happen to know a lot of FAEs in my area who live in more rural settings. So it must be working for them, right? For those that don't know, FAEs support products on the technical side of things. Oftentimes (at least with the FAEs I know), they are former engineers and users of the chips or products and now are experts for a particular vendor. In fact, I've been asked to go become an FAE for a chip company because I had used many of their products in the past and they wanted me to become a technical expert in my geographical area. The key part of the job that allows country living is the need to drive to various companies to interface with customers. In the Cleveland area, I know that the FAEs are often expected to cover northeast Ohio and Pittsburgh. This means a lot of driving but also means that it's worthwhile to live in between the two. What's in between Cleveland and Pittsburgh, you ask? A wholelottanothin! Really, the FAEs are often allowed to live wherever they want, but many I know are able to live in remote locations because they aren't constrained by a desk job at an office park (or similar).
Another job that allows for a country setting is working for yourself. In this case, I mean operating as an independent consultant. Often times a technical expert in a field will do this as they advance in their career, eschewing management positions and instead focusing becoming the number one expert in a particular field of engineering. This means you might have many different customers;  however, there would be no way to tell where those customers ultimately be located. With the rise of electronics in Asia, I know some consultants who used to work with companies in the US and now find themselves consulting for foreign companies just as much, if not more than the US companies. Much like the above mentioned FAE, the key factor in a consultant's living arrangement is their travel. If you need to travel all over the area or the country on a regular basis, your home operating geography isn't really of significance; the biggest constraint is how long it takes you to get to the airport. Other than that,  if you can get a broadband internet connection (which thanks to groups like ConnectOhio is growing daily), you truly can work from almost anywhere. If you don't mind picking up your mail at the post office and the slower up/downlink of a satellite connection, you can go even more remote. It's kind of a crazy time in that regard, but also allows people to do work that sustains them and enjoy more isolated and serene surroundings.
The final position I can think of that allows for rural settings is again working for yourself but also employing others. My favorite example is the Factor-E Farm which is part of the Open Source Ecology project; they are manufacturing easy-to-build agriculture equipment and open sourcing all of the design files. They are designing and manufacturing goods in a rural setting and the distributing that information all over the world. It is just as likely that they could manufacture and sell some of that equipment to others. And much like above, the constraint is simply logistics. How long it takes for raw materials to get to you, how long it takes to manufacture with those materials and then how long it takes to ship to your customers. Really these are the same constraints that companies have dealt with since commerce began. But with the rise of 3rd party logistics companies (UPS, FedEx, USPS), these things are offloaded to others. The only constraint is how much faster your competition is able to get the product out to others. If you're not manufacturing iPhones (something that takes a lot of advanced supply chain logistics), a rural business can once again become a reality. Talent acquisition in a not-so-dense area could be problematic, but in the age of the 3rd industrial revolution, it's entirely possible that no workers or traditional manufacturing will be required at all. Now it's completely possible that the only constraint to a business is the bounds of the proprietor's imagination. If you feel most creative while on a farm, why wouldn't you move your business to one?
What about you? Have you ever lived or worked on a farm? Was there any opportunity for engineering either on the farm or in the nearby towns? Please let us know in the comments.