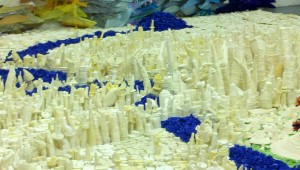 No, this isn't about grades.
I got back from Maker Faire last weekend on Monday. It's a festival dedicated to science, engineering, ingenuity and creativity. Really it's a bunch of nerds like me hanging out, showing off their projects and selling their kits and wares. It was amazing. But the thing that struck me most was the native integration of artwork with all of these technology projects.
Art and technology have an interesting co-existence. Some people call it "design", like how "Industrial Designers" are the ones that draw up cars and other items to make them prettified for consumers. Engineering is sometimes the underlying skill set for many types of art, as well. In general though, the forward facing part of a product is the last concern of engineers; really it's the first thing that consumers see in a product, it's actually quite important. And all along the way, when artist and engineers are involved, there's bound to be conflict between the two because of the conflicting priorities.
So back to the title and Maker Faire. Another interesting part of the festival is the heavy STEM educational focus. But there has been a rising tide of questioning whether schooling around Science, Technology, Engineering and Mathematics (STEM) should get one more dance partner: Art. Should STEM become STEAM?
At first, I was solidly on the "no" side of the fence. I thought that the "touchy feely" part of art would corrupt the focus required to do hard calculations. But seeing all the beautiful installations and how much latent engineering is often required for the most compelling art these days, I now say, "Heck yeah it should be". While I'm not a fan of Art usurping the needs of other types of education, I think it also provides something that most STEM educational programs often lack: context. When teaching the most complicated topics in STEM, it's a good idea to tell your students why they need to learn it. If art helps to further the message, I'm all for it. Another look at art is that it's primarily a creative endeavor (though there are some very technical concepts that any artist must master). In a world increasingly flooded with engineers that can do rote calculations, engineers that are creative are even more valuable than before. If an art curriculum helps to develop creative tendencies, it's a good thing in my opinion.
I also enjoyed this talk by Adam Savage of Mythbusters, who gave a talk on the main stage about similar topics and his own entrance into the world of engineering (hint: through art endeavors)
[tube]http://www.youtube.com/watch?v=_otrgJ8Lmx4[/tube]
So what do you think, dear reader? Should art become a critical part of STEM education? Why or why not?
Thanks to the Tapigami folks for bringing their tape and cloth city to Maker Faire (pictured above). It was my favorite exhibit of Maker Faire and inspired this post. One more below, click on the images for higher res versions.