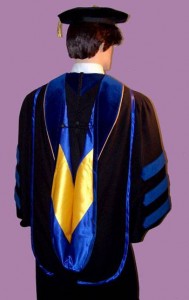 I, like many of my academic colleagues, have been extremely busy these past few weeks (hence the lack of posts) with finishing the semester. There's final projects to be turned in, finals to be graded, last minute faculty meetings, and things like commencement weekend which really eat into your time.
Since this is my first semester as an assistant professor and I teach a required senior level course for all mechanical engineering majors, I decided to attend commencement weekend. For those of you that don't know, when you receive your PhD (Doctorate of Philosophy), you're hooded as part of the commencement ceremony. When you're a faculty member, you're supposed to were the academic regalia of your university (where you received your Ph.D.) and your hood.
I ran into two small problems while preparing for commencement: 1) I was never hooded as part of the formal ceremony and 2) my university doesn't have academic regalia. I actually wore a full tails tuxedo when I defended and received my doctorate.
Now I know some of you are saying "Huh? How can that be?". Well, over in Europe where I did my doctoral studies, you technically don't receive a Doctorate of Philosphy (Ph.D.), you earn the title "Doctor". For instance, my business cards should technically say dr. Prof Gears instead of Prof Gears, Ph.D. In all practical sense, the two mean the same thing. And it is true that you can get a certificate that states your dr. title is equivalent to a Ph.D. degree (and vice versa).
As for the commencement ceremony, I plan on wearing the regalia of my SnowU based on their recommendation. To me, it doesn't really matter in the grand scheme of things. But to an academic purist, this would be improper and I should probably wear a full tails tux like I did when I received my doctorate. I've researched this a little bit and I can't seem to find what's appropriate and what's not appropriate, so I'm going with the easiest solution.
For those of you out there with international ties and/or backgrounds, what's been your experience with this? Do you think it makes a difference? If you received your doctorate in Europe but are now faculty member in the US, what do you wear for your academic regalia? Any thoughts or advice would be greatly appreciated.
And to all of those graduating around this time, be it with an AS, BS, BA, MS, PhD, dr., whatever, congratulations!
[photo credit: caps and gowns now]