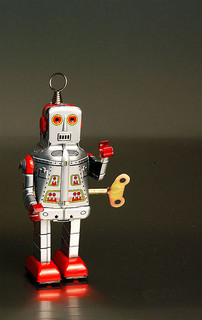 Lately, I've been hanging around some hacker spaces in the Boston area, meeting people, and seeing what they're making. One thing that really astounds me is the amount of technical knowledge people share for free. I mean, the work I see is the fruit of highly skilled, highly technical labor… people doing circuit board designs and layouts, writing control loops, developing ethernet boards to connect little hobby gadgets to the internet… in short, really cool stuff.
My initial reaction was to say "This is worth money! Why are you just giving it away?" but of course, at a certain point, money just isn't a motivating factor. For so called "knowledge workers," developing news skills and mastering them was the intrinsic reason for putting so much time and effort in to these projects. Here it was first hand: for the scientists and engineers in the area, making something cool was more valuable than the effort it would take to capitalize on an idea.
Which brings me to the second point I raised in the title. Why don't these ideas don't get stolen? The answer, as I see it, is that to steal an idea requires caring about it deeply. These people are putting hours of labor into their ideas because they are passionate. A corporation, however, has all sorts of inertia to fight: they have budgets and schedules and resources that are already tied up. Finding the combination  of someone with 1) with passion who 2) cares about that idea 3) has the technical skills and 4) and can convince other people to spend time on it, is very, very difficult.
So keep on making, makers! I can't wait to see all the cool stuff you all are cooking up!
*picture courtesy of Mark Strozier