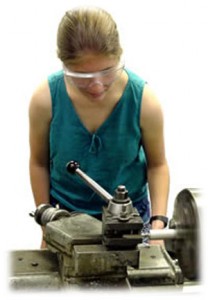 I love building things. I love working with my hands, I like using power tools, I like the physical making of STUFF. (Or the tearing apart of stuff, which is a lot of fun but perhaps less productive….)
And by choosing to major in mechanical engineering, I thought I was giving myself the best shot I could to find a career where I can build stuff.
And now I am looking around at what my friends from undergraduate university are doing, and none of them are building things. And if I look at what my friends from graduate school are doing, none of them are building things either.
Part of this has to do with what you WANT to do. Of course if your interests lie more on the modeling/simulation side of mechanical engineering, or if you are more interested in leadership roles, or in management, or in design rather than implementation – then you follow your skills and find a job in those areas. There can be overlap, of course, but if you don't WANT to build things, chances are you won't (and probably shouldn't) end up in a job doing that.
But let's assume you DO want to build things. How to accomplish this?
Well it does have to do with WHERE you work. If you choose to go to Wall Street, well obviously you won't be building things. If you go into consulting, or patent legal work, clearly you have chosen a different path.
How about working for a classical mechanical type of company? Ford to build cars, or John Deere to build tractors, or GE to build turbines, or Conoco to build oil rigs? I know folks who work for each of those places, and in all cases they are not the ones doing the actual building. Usually because they are in the management track – in which case they are leaders, directing a team of folks, going to meetings, making high level strategy decisions. As soon as I realized this meant spending 80% time in meetings, wearing a suit, and working in an office all day, I knew it wasn't the right place for me.
It is possible to be in the engineering track in a large mechanical company, and I know a couple folks doing that – and that is closer to what I'd be interested in. At least you get to use some engineering knowledge to design things – heat exchangers, or compressors, or piping, or engine components. Yet still you hand off your design for others to make. If you are lucky, you will get to see your design implemented, and maybe you can point with pride to a car with your component in it, or get to travel to an oil field to see something you were involved in designing. But you still never got your hands dirty, and you still work in an office.
How about academia? Maybe you could get your hands dirty there – but let's face it, how many professors actually spend time in the lab? Teaching, writing grants, and mentoring grad students seem to be the biggest job responsibilities. The grad students are the ones who actually MAKE things – and hey, guess what I'm doing at the moment! 🙂
How about working for a startup? I am slowly learning about this kind of life, and to be honest it seems really attractive. However if you are the CEO of a startup, most of your time is spent on things like meeting with potential investors, dealing with the board of directors, hiring and firing people, coordinating and organizing and scheduling, and again we are back to 80% time spent in meetings. Even as the CEO of a technically-based startup, the set of job responsibilities still doesn't include building things. However, the CTO of a small startup probably would be building things. That seems like the most likely place, in my mind, to actually be able to combine technical knowledge and practical hands-on skills.
In the end, the answer may be that by going in to higher education, I have educated myself right out of what I wanted to do. Those who can design new mechanical stuff are no longer the ones actually working on the machine shop floor making it – and maybe that is the way it should be. If my most valuable skill is the design, I should logically be contributing there instead of taking the job that a vocational degree holder is qualified to do. Except that I LIKE doing what vocational degree holders do.
The jobs that actually let you build things may be the vocational jobs – automotive technicians, machine shop workers, welders, electricians, construction crews. I may end up there – I'll be the only PhD woman driving a backhoe, but I'll be a happy one!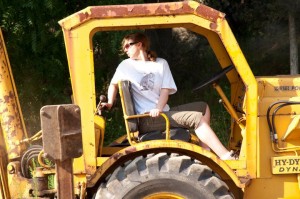 So where do you go if you actually want to build things?