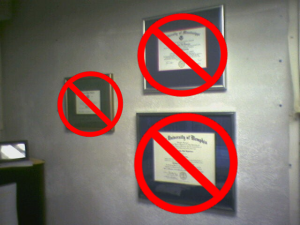 I'm not someone who is prone to nostalgia often. First off, I haven't been an engineer that long, at least in comparison to many of my peers. Being the "new guy" (or gal) can really prevent being nolstalgic about the old days. However, I find I'm becoming more so when I try to hire people.
Hunh?
You see, I know a decent chunk of engineers who I'd love to hire. I know I'd like to hire them because I've seen their work, I've talked to them about electronics and I know that they know their stuff. I feel confident that whatever they don't currently know, they would quickly go out and learn to the best of their ability and apply it to the situation I've placed them in. However, in reviewing their work and credentials, I see that there isn't an undergraduate degree on their resume.
FULL STOP.
Is this my rule? Am I the one that immediately clams up when I see they haven't received their degree, which I must consider to be a ticket to a job? Nope. I work at a big company, as many engineers do. And like all big companies, there is an HR department in place that is in charge of hiring and administrative duties for employees. And somewhere deep in their handbook or buried in the job description, there is a clause about the candidate needing an engineering degree from an ABET accredited university.
Now, I can try and go around HR and I'm sure it's possible with enough effort. As Sam Feller has written on his personal site, sometimes it's necessary to go around HR while on the other side of the table, as a job hunter. But I don't really take issue with the people enforcing the rule in HR, so much as the thinking behind the policy. In fact, I'm pretty sure the policy originated from the MBA playbook. "Hire the best people, as fast as possible, with as little effort as possible". Naturally, you'd want to only hire people with university degrees, right? Isn't this how it's always been done?
Well, in fact…no. It hasn't always been this way. In fact, this is a relatively new phenomenon. Previously, engineers could enter a company in two different ways. The first is the same way they enter now, with a university degree. The other was working their way up, either from the shop floor or as a technician. Almost all training was "on the job" and responsibilities were granted as the person became more and more experienced. This meant that someone without a high school diploma (though likely they did have that) could one day be a head engineer at a company, having worked their way up. And given the time frame of when this trend changed, this could very well be the case today. Perhaps your top engineer never finished school?
I'm of the belief that this is not likely to happen anymore. The combination of HR policy and social norms means that most engineers entering companies will be required to have a degree of some sort. I've even heard of companies making older engineers that had not earned a degree go back and earn one retroactively, as though the degree would validate the years of work they had already done. Even though "on the job" is where engineers learn most of the relevant work, there is an undeniable focus on having that degree.
One of my concerns is the logical extension of this trend. If previously a high school diploma was sufficient–but no longer is–what is the next step? Will every practicing engineer need to have a Master's degree along with their bachelor's degree, similar to how many teachers are now required? Will it then be a PhD? Is the profession any better for it? Or is the value of a higher degree then lessened? Mostly I'm just worried that I'll be forced to go back to school when I have no intention to. I find that I learn more while doing my work than I ever learned while in school. While I understand that a university education is different and meant to be a broad based support for future endeavors, if I never use the base…why require it at all?
Seth Godin wrote an ebook recently called, "Stop Stealing Dreams". In it, he discusses the origins of public schools and what they produce. While that book is a detailed and lengthy account of the maladies of modern schooling, there is one overarching point I want to pull out of the text. He states:
Large-scale education was not developed to motivate kids or to create scholars. It was invented
to churn out adults who worked well within the system. Scale was more important than quality,
just as it was for most industrialists.
This turns into many different interesting threads of thought, but none more interesting to me than the fact that schools might not actually be working. At all. And so that's why I get so incensed when it is a requirement for hiring someone. If I can prove through questioning and references and viewing experience of the person I want to hire, why isn't that allowed? And possibly more importantly, if I am trying to hire someone for a creative endeavor (and yes, engineering is a creative endeavor, no matter how you slice it), would I want someone who has excelled in a system that favors conformity over creativity?
As a quick aside after asking such heavy questions, I feel I should explain myself. Perhaps I'm becoming, HypoChris™, which is what my wife calls me when I'm being unfairly hypocritical. After all, a university degree is still a decent indicator of good work, right? And more importantly, I got a university degree, didn't I? So would I hire me? Well, maybe….but in the end, probably not; at least not right when I was coming out of school. Sure, my cooperative education helped me understand engineering in a larger context and learn on the job. But I don't feel I truly became an engineer until my second job out of school, when I took it upon myself to really get deep into the material. Not surprisingly, this was also the time when I began to enjoy engineering the most. It was the point when I was purely learning on my own and struggling and striving to make myself better that I would have considered hiring me. Did I need a degree to get to that point? There's no way to tell, since it was a confluence of factors that got me to that point. However, I do know other people that reached that same point without earning a degree in EE.
As a final point, I'd like to bring up the haven of most engineers who don't have degrees. In fact, it's quite hilarious. Most engineers without the official slip of paper end up in consulting. Often times it's because this is a way around HR departments. If you aren't officially working for the company and instead only invoice them for your services, you don't show up on HR's radar. They can't protest about what they don't know is happening. The people without degrees who are good engineers often need to find other ways to get paid for their work, so they often have clever working agreements. They also have to work harder to find gigs, often through networking (which also happens  to be the primary way that consultants are found). The truly ridiculous part of all of it though is that when a consultant is needed, companies often paid much more than they do their full time engineers (even after adjustments for taxes and health insurance and such).
So do I think they should never hire anyone with a college degree in engineering companies? Of course not, that's silly. However, I think there should be an honest discussion about why there are degree requirements for jobs, especially in this age of sky high tuitions. Perhaps, as this author from the Denver Post states, a way to fix the problem with student loans and the skyrocketing price of education is to stop requiring it for everything. That would just be a side benefit. The main benefit would be cutting off the degree inflation that is making it difficult to find workers. Instead, depend upon experiential learning and hire people that are eager to teach themselves.
I'm sure there's a reader out there saying something like, "Well Chris, why don't you stop complaining about it, move up the ladder and fix it?" Well, I would. But first I'd need to go get a degree and learn the playbook. And by that point, I'll just be focused on hiring people as fast as I can.
Thanks to lordsutch for the original diploma image.