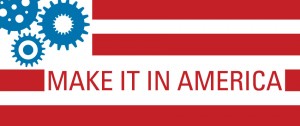 Recently, there has been a significant amount of rhetoric by President Obama on how we need to re-establish manufacturing in the United States. This topic was front-and-center in the State of the Union speech in January. Additionally, President Obama has been touring the country, speaking at universities, businesses, campaign stops, and fundraisers about how we can boost our economy by emphasizing manufacturing.
The President, thankfully, has backed this initiative with a serious amount of funding. Much of the following information is paraphrased from Manufacturing.Gov, the website detailing the National Network for Manufacturing Innovation. In a nutshell, the government is looking to fund up to 15 Institutes for Manufacturing Innovation in the next year backed by up to $1 Billion in funding. The pilot institute, with a focus on Additive Manufacturing, will be funded using FY2012 funds, meaning it will be awarded before the end of September. These Institutes will primarily serve as development centers for transitioning ideas from basic science and fundamental research to commercial products. Additionally, shared user facilities will be implemented to boost capacity and development opportunities for small and medium sized companies. Lastly, workforce training programs will be implemented to provide educational and advancement opportunities to workers which lack the skills or desire acquiring new skills, with the aim at improving job growth and job retention.
As an American, I can say that I am glad that the government is putting a significant sum of money for investing in this program. Manufacturing jobs are an integral part of the economy and advanced manufacturing is a core part of our economic future. You know that Corning gorilla glass that's in just about every smart phone and tablet on the market? Without it, Apple wouldn't have become the world's most valuable company. The flat screen TVs that Americans spend 3+ hours per day watching are all available because of advances in display manufacturing. Power plants, mining equipment, and airplanes are all technologies that required (and still do require) overcoming extensive manufacturing challenges.
As a mechanical engineer, I'm glad there's a push to revitalize manufacturing in the US. Many in my generation grew up with parents that were burned by manufacturing so they pushed their kids to business, marketing, and finance. This has had an enormous effect on our education system. While mechanical engineering is still the most popular engineering major (at least from every dataset I've seen), manufacturing has gone by the wayside. Even in the ABET accreditation standards, there is no longer a requirement to have a basic manufacturing course. How can we teach mechanical engineering to students if we don't teach them how stuff is made?!?!! Even if a university does teach manufacturing, insurance premiums for student shops are insanely high and are (on some levels) cost prohibitive for many programs.
I'm hoping that this initiative can reverse these trends. From everything I've read on this, it looks like they have the right intentions. And I know they haven't worked out all of the kinks for this program. There's a whole host of issues like IP rights, institute structure, and sustainable outside funding. But I think this is progress in the right direction.
[photo credit: manufacturing.gov]