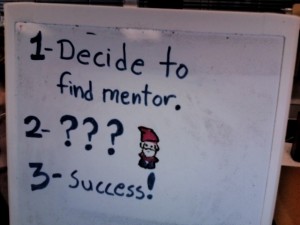 There have been some great posts on networking and impostor syndrome in the science blogosphere lately, which has prompted me to do some thinking about one of those pieces of advice that always crops up in such discussion: finding a mentor.
It's pretty generally accepted that mentorship matters at every career stage, but as someone early in my career, it seems that the first advice I'm given when I'm struggling is "find a mentor". One mistake I think most of us make at least once is assuming that because we report to someone, they will serve as our mentor. Maybe it's because finding a mentor is actually not a straightforward process. I can't write a flow chart that will consistently find someone a mentor.
Personally, I've generally found mentors simply by talking to professors outside of class, about something other than class, or talking to professors who I no longer take classes. However, I'm not exactly an introvert, so this comes more easily to me than it would to others. I also have a group of people I consider peer mentors. That is, someone at roughly your level, but with a specific skill set you may not have and the willingness to teach you that skill. The willingness to teach is what makes the difference between a mentoring relationship and teamwork to me.
This year, I've been working with an undergraduate student on a research project, and frankly, I've learned more about how to get the mentoring I need from being in a mentoring position than I have from years of looking for mentors. He's great at asking for help as soon as he runs into trouble, and has been able to get much more done than either of us expected. We also take the time to talk about things other than his research project, which I think has helped us learn how to communicate with one another more effectively.
What advice do you have for finding mentors and for getting what you need from the experience?
Image courtesy of a handy whiteboard and some quick doodling