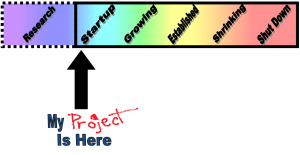 This week is a Theme Week and we're writing about our experiences at some point in the product or company's lifecycle. My Location : Startup. I've always seen design engineering as having two distinct categories. Sustaining engineering and R&D engineering. Since I'd always seen Sustaining as being boring (sorry Chris!), involving designing the same product over and over, tweaking it to make it better, but basically understanding how it works already, I managed to start in R&D nearly right out of college. Seb's recent post seems to prove me wrong, but maybe "Sprockets" have it better than us "Sparkies"! Some of the companies I've worked at on a project basis were similar. They had been in existence for years, eking out a living and had a common trait: No money for New Product Development (NPD). I've had many successful projects (I came, I designed, it worked), but the unsuccessful ones are more fun to write about. Especially because I can poke at Management (sorry Fluxor!).
On one of my projects, I was tasked with adding a lot of functionality to an existing (but not at all working) product. It had a 12 layer PCB with some beautiful and unnecessary analog functionality. At the start of the project, I was given an electrical specification, an EE consultant for 5 hours a month and a server location to the software. I had to borrow an oscilloscope from another company since Management at my 10 person facility needed an ROI report to prove why I would need a tool that costs $800. After about 8 months, I realized that the company could buy the same thing off the shelf. The designed board cost $11k (yes, thousand) to manufacture and the off the shelf part required a software engineer and $125 each time to buy. How did this situation even happen? Engineering had a meeting with engineers from 2 facilities and came up with the idea to make one embedded circuit board for all the Industrial Equipment products. While a great idea in theory, it wasn't the best approach since all of the machines had different functionality and needs. Those same engineers from 2 facilities went ahead with the design project….because it was fun, right? Wheee! They also found enjoyment in ordering software engineers to program this and program that. The result? High employee turnover, 2 different software packages, 5 years and a non-functional board. All of the original engineers left and I walked onto the scene. After presenting Management with the off the shelf solution (the room was dead silent during my talk), I thought I'd better find a new project to work on.
I went to work for a company that had 5 people when I joined and 1 marginally successful group of products. Again, no money for NPD. This time the company had an oscilloscope. My first assignment was to analyze an electric motor's performance that had no documentation. The tasks were varied, from hand cranking a diesel motor (I'm 4'11"), to supervising the rewiring of a facility's breaker box for higher amperage and even communicating with Germany to get a torque sensor fixed. We never got the motor to turn so it was ultimately fruitless; you get what you pay for, right? My second assignment was to troubleshoot someone's solar battery system and get all of the parts needed for free. The result? This time I was successful since I was now able to use my newly acquired skills of getting things accomplished with absolutely no budget. My third and final assignment was to design a battery charger. I was tasked to use an untrained assistant and microscope to solder SMD power electronics. 8 months go by. We couldn't even get the simplest part of the circuit, designed by Texas Instruments' online tools, to work reliably. I find out that it will cost $600 to get a local manufacturing PCB house to populate 3 boards. Not surprisingly, I find that this is too much money for management to spend on this project. After one of the buck-boost chips catches on fire, Texas Instruments chastises me for hand soldering this circuit. Management tells me I'm not a real engineer. That the project is canceled. I look at the budgets of my past projects and shake my head. Without resources? Management isn't real management.