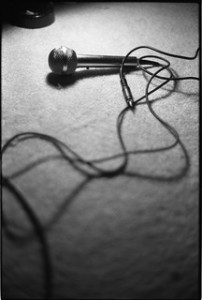 UPDATE: The podcast showcased here (sorry to discourage the surprise) is now available at The Engineering Commons Podcast site.
Normally, we discourage cross-posting here at Engineer Blogs. We find that it's best if our writers can write here and at their own sites on different topics (or at least have different articles in both places); hopefully our readers here notice the difference and visit the sites of writers they like. But since I helped start the site, I thought I'd adhere to the Golden Rule:
He (or she) who has the gold makes the rules. And since there's no gold anywhere to be found at Engineer Blogs, there obviously must not be any rules!
So anyway, as alluded to above, I have mentioned this news on my own site in the past few days. Normally this means I wouldn't write about it on EB, but I thought that our engineering audience here would enjoy it, I figured I should mention it here as well: I've started a second podcast.
Yay! (right?). You listen to podcasts, don't you?
Oh…no?
I'm not sure a statistically significant portion of the engineering population listens to podcasts. In fact, I'm pretty sure it is less than 1%. I've done lots of research on my first engineering-esque podcast about electronics and circuits, The Amp Hour. On that show, it's a much narrower audience, because we mostly cater to people interested in working on electronics or trying to learn a little bit more about them. I'm not saying I've called homes and ask if they listen to podcasts, but I try and survey our existing listeners and I hear from listeners who no longer want to listen. One thing we've run up against time and again has been that most people are not primed to listen to their information over reading it. A lot of people simply don't like it.
I've started to accept my fate as a podcaster. According to the American Journalism Review, podcasting was a lot more hype than anything else, especially when it started gaining popularity back in 2005 (thanks to the iPod); back then, they estimated 6 million people were downloading podcasts (2.1%), but only 1 million listened to them regularly (.36%). Beyond that, they really don't know how many listen because many likely download them and they sit there, never to be listened to. Anecdotally, people I have talked to agree with this take on podcasting. Not many people can be bothered with listening to very specified media, let alone taking the time to seek out whether podcasts in their niche genre even exist. So if we use the very generous number of 5% of the US population (borrowing from some of the estimates in this NSPE report) being engineers and only .36% of them listening to podcasts, that means that our audience tops out at roughly 50,000 engineers. If you add in the "codger" factor (as in, most engineers are getting on in years) and older people are even less likely to listen to podcasts, the numbers can get pretty low. So yeah, I know we're not going to reach millions of people with our message. However, we think there might be a few of you out there that would enjoy listening to general engineering topics, as well as reading about them here on Engineer Blogs. And we are enjoying doing it so far.
On a more general basis though, I'm curious: Do you enjoy consuming information other than written word? I know I often find myself wanting to be able to read something and digest the information contained within rather than listening or watching a video. This is something I struggle with as someone that makes content but also as I try and find new ways to learn. I see the providers of traditional engineering based content moving away from written word, so less of it is available in certain niche areas. If you have an opinion about content, please let us know in the comments!
And if you are indeed interested in my fledgling project, check out the audio below. My first show with Jeff Shelton of Engineering Revision is now available. We are looking for feedback on the format and the content. If you like something, we'll keep doing it. If you don't, we'll try something else. And if you have an idea for a name, we're all ears.
Thanks for reading…and now listening!
If you want the mp3 file all to yourself, you can download the .mp3 here directly.
Thanks to Ganatronic for the picture of a microphone.