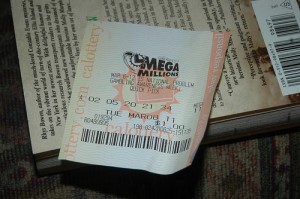 I'm going to prompt everyone up front. This article was inspired by the Mega Millions Lottery that was drawn on Friday. No, I will not do the stereotypical thing and pretend I won (yay, April 1st posting date). And no, I will not be talking about the horrendous odds of the lottery (Gizmodo had a fine article about how you're much more likely to date a supermodel). Though I usually rail against playing the lottery, I did capitulate this time. And for my $5 (inevitable) loss, I did get a good thought exercise out of it all:
I began thinking of situations when you have 3 components: willing engineering/scientific minds, free time and gobs of money.
We've actually seen this thanks to the dot-com bubble and the people that managed to cash out.  And even beyond the dot-com bubble, we've seen millionaires and billionaires spring up overnight. And when they leave that original venture–sometimes by choice, sometimes not–we sometimes see them taking their money and doing very awesome things with it. In fact, things that push that money right back into science and engineering work.
Interestingly, we're now seeing people that have made their fortunes elsewhere also move into scientific ventures, either as part of their inner scientist or because it has some tangential benefit to their business. I sometimes think this is slightly more impressive because jumping into a scientific or engineering endeavor without having done so in the past would be more of an undertaking because of learning to deal with other scientists and engineers (hey, we're not perfect, right?).
James Cameron — This director has been diving for many years now, but is back in the news for going down solo into the Mariana Trench's Challenger Deep. Becoming only the 3rd person to ever visit that depth could be considered more of an adventurer's task than a scientific one. However, he was more focused on filming and bringing the footage back to the surface than the thrill of being down there.
Alan Alda — Though Alan isn't fully funding this effort, there is now a school at SUNY Stonybrook named after him dedicating to teaching scientists and engineers how to better communicate, a notable venture. On Science Friday a couple weeks ago, he spoke about coming back to science (now that his success in acting has allowed him to) because of his lifelong curiosity. This was also the impetus behind the ongoing Flame Challenge, a contest dedicated to having scientists and engineers explain how a flame works to 11 year olds; a contest in which the winners will be chosen…by 11 year olds!
As we seen more and more divestment from public research, it seems that this is a (sadly) legitamate effort while politicians get their act together. Historically, we have seen similar situations, though it was not encouraged by political gridlock so much as lack of infrastructure. In the 16th century, we saw the Medici family fund engineering geniuses such as Leonardo Da Vinci. In the early 20th century we saw patrons such as Andrew Carnegie sponsoring expeditions and museum endowments. Hopefully, we won't become dependent on these kinds of gifts again, but they surely will always be part of the landscape.
So what about you, dear reader? If you were to find yourself sitting on a pile of cash tomorrow, would it be used to fund research and endeavors? Or would it simply be for creature comforts and luxuries? Perhaps this is indicative of whether engineering is "just a job" for you and funding other parts of your life? And of course, the question in these kinds of hypothetical situations also must be asked: how much would it take for you to begin investing in large efforts such as the ones explained above? Please let us know below, in the comments.
Thanks to PirateyJoe for the lotto ticket picture. It seems he didn't win either.