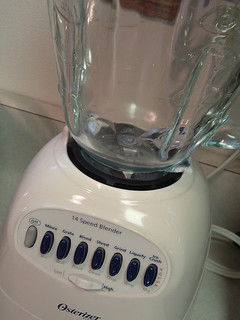 When I was job hunting a few months ago, I decided I was less interested in aerospace/defense and more interested in working in consumer product development. I was particularly interested in working at a consulting firm, because the variety of work appealed to me. The thought of working on a single product line for years on end…did not have much appeal.
At many of the product design and consulting firms where I interviewed, I encountered a disturbing trend. I had been peripherally aware of it, but finally encountered face to face: Not many consumer products are engineered in the United States.
At one firm, for example, I saw a design for a new model blender. The firm had handled the industrial design, essentially designing the appearance of the blender, it's contours and colors and the shape and number of it's knobs. A factory in China, they told me, would do all the engineering work for free in exchange for the rights to the manufacturing contract.
I asked how this came to be and learned that at many of these design firms, as it became financially tougher to compete with engineers in China, the firms began to focus on the industrial design aspects; it was just more lucrative. In engineering, you have to build prototypes, which costs money and eats at profits, but the industrial design is nearly pure "knowledge work". Generating a pretty computer model of a new product costs little more than what you pay the designer and hence has higher profit margins.
The long term danger is that you're giving the farm away. The barrier to entry for a large scale manufacturing operation could easily be on the order of millions to billions of dollars. You need to build the factory, hire workers, establish supply chains, and so on. The barrier to entry for an industrial design is one person with a computer. Once you've given up the manufacturing barrier, you're vulnerable as a business.  Clearly, once you can build the products for someone else, why wouldn't you build them for yourself?
Actually, this has already happened. HTC's corporate history page says the following:
"Founded in 1997, HTC built its reputation as the behind-the-scenes designer and manufacturer of many of the most popular OEM-branded mobile devices on the market.

Since 2006, we have regularly introduced many critically acclaimed mobile devices under our own brand."
HTC clearly decided they could make more money selling their own phones. How long before Foxconn decides they don't want to build phones for Apple, and decides they want to build phones for themselves? Admittedly, Apple has a recognized brand and about 10,000 designers and engineers on staff in the U.S.; but I venture it's easier for Foxconn to find 10,000 engineers than it is for Apple to find 2 million factory workers.
So as I see it now, a lot of prototyping, first run design, and small volume engineering work is still done in the US. If the work is technically challenging, the engineering is done in the US as well. As the internet continues to make knowledge and education more readily available, I see that "engineering knowledge barrier" becoming less and less significant.
What do readers think? Is this just alarmist talk? Or is this a more efficient economic outcome, where the US specializes in designing and China specializes in building?
*photo courtesy of bcmom