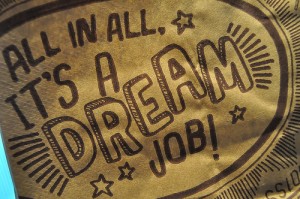 This morning I awoke to an interesting Get Rich Slowly article. I've mentioned it on this site before, but GRS is one my favorite sites on the internet. It's a personal finance blog that was started by JD Roth but has expanded to many other authors (and guest authors!). Today, the daily post was from a former teacher who wrote:
[This and other blogs] seem to be written by people who work in their pajamas or by people with no opportunity cost to blog (they're either financially independent already or stay-at-home parents). These are both great things, but I don't hear much from a Joe Sixpack schlub with a 9-to-5 like me. Instead, there's a lot of Tim Ferris-type noise about how us poor saps who go out and punch a clock are the suckers.

Plus, there are so many blogs advocating early retirement in the form of extremely low cost lifestyles, or quitting your big power job to become something touchy-feely, etc. You know what? That's not everyone's reality.

As an experiment, I thought maybe GRS readers would like to know that one of your fellow readers has, in fact, done the opposite of what many of these bloggers recommend: I've gone from a touchy-feely feel-good job to one that's boring and practical — and I couldn't be happier for it.
So basically on a site based around financial and career independence (and the associated idea of a "dream job"), a guest author wrote an article about how they had given up on the job they were once passionate about and got a 9-5 gig in order to pay the bills. I found this to be intriguing.
Those engineers out there who work day-jobs in an office, will know this situation. Not necessarily because EB readers aren't passionate about engineering. But because many offices have people that aren't as enthusiastic about engineering. Not as a calling, not as a passion, not as something they particularly even like doing anymore: It's just what they do for a job.
So I ask you, dear reader, can engineering "just be a job"? 
Do you see this on a regular basis? Is it possible to be detached from the work and still be effective at it? How do you interact with someone with this mindset?
And yes, we'll even consider the fact that perhaps you are someone who feels this way (though if you're reading a site called Engineer Blogs, perhaps you're a bit more interested). If so, what has changed and have you always been this way?
Please let us know what you think in the comments! …that is, if you care enough to leave a comment on a site about engineering… 😉
Thanks to atsuke for the dream job picture.