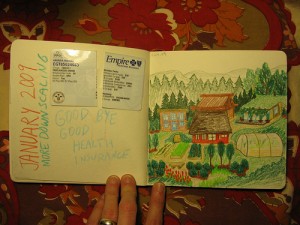 For most of us working as engineers or other technical jobs in the United States, it is a given that we receive paid-for medical insurance. It is difficult for companies to find technical workers, therefore they usually offer health insurance in some form or another as an incentive.
This site gives a breakdown of how much insurance costs state by state: http://www.ahipresearch.org/statedata.html
 So if you work somewhere that asks you to pay say, 50% of your health insurance, you might be paying $2,500 per year for a single person. That is on par with paying to go out to eat lunch every day (and even then, on the cheap).
If you're a family, things get much more expensive; the costs get closer to $6,500 on average. If you have a single-earner family, it's unlikely you're eating lunch out every day. If you are self-insured in NY state (where I'm from), it is about $5,700 for single person insurance and roughly $12,000 for a family plan. That would be a lot of expensive lunches!
 Many of my project friends and talented online acquaintances talk about leaving their jobs to pursue inventing, projects or starting companies; that is, if it were not for the high cost of health insurance (again, in the United States). It is sad to see so many talented engineers so stuck because of the psychological pull of this major expense. While there are changes in the works currently (set to kick in by 2014), there are a lot of catches regarding pre-existing conditions and getting an insurance company to accept you. I feel it is very backwards thinking of the US government to effectively clamp down on creative entrepreneurs by linking health care to being an employee.
Health Care is not an easy thing to price out. Many of the insurance companies suggest a fax machine to transfer info back and forth, or requests for information are ignored entirely. The insurance documentation takes a bit of getting used to and even longer to understand. Most engineers utilize Human Resource professional or Benefits Administrator for a reason, right?
I get health insurance through my local Chamber of Commerce, so they take care of administration and acceptance. As far as I know, they accept everybody into the insurance plan. I do this to maintain my "life-hacked" engineering and sales job.
Once this expense is thought of in actual money terms, it is easy to determine whether or not the money for this cost can be earned by doing side work. One small engineering design project, for example, can pay a single person's health insurance for an entire year. Additionally, this can be written off as a business expense, so the money that is earned towards the insurance will not be taxed.
Does $6k stand between you and doing what you love?
Editor's note: Health insurance is a hot-button topic in the US. Regardless of your political views, we felt it was useful to consider to the implications of (US) health insurance on engineering. All opinions are welcome, as long as they are civil discourse.
Thanks to arimoore for the lovely drawing!