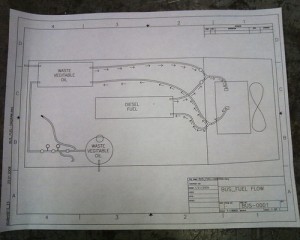 An article in the Guardian newspaper today drew my attention to a rather stunning online archive of drawings and sketches from the engineers who designed and built Britain's railway network in its 19th and early 20th century heydey. I heartily recommend you have a browse here.
Whilst that collection is certainly a wonderful resource, I have a rather ambivalent relationship to engineering drawings. Like butterflies pinned into collection books, they are a fixed, dead representation of what once was an idea fluttering merrily through an engineer's mind. Throughout the initial phases of concept and the first wobbly-lined and crossed-out sketches, to 3D CAD models spinning and rotating on the monitor, through to prototypes, parts take on a life of their own. They grow from chrysalis to caterpillar, evolve before your eyes and then – they are ossified, sectioned, labelled and numbered like any other sample. Their drawings sit there gathering dust on the desk, yellowing in folders or exploded into ones and zeros on a disk somewhere (most likely more than one disk…). Your drawing library is a museum. Drawings don't do anything.  Right?
Well, drawings are the lingua franca of engineering, a translation. And like any language, they are an inexact representation of what was intended. But, like language, they are irreplaceable. Like language, they can be simultaneously fascinating, bewildering, unremittingly dull and, as you can see in the railway archive, wonderfully beautiful.
A good drawing is laden with meaning. It is the drawing that communicates what a part is supposed to be, how it is to be made, out of what materials, to which tolerances, how it is to be measured and to which performance or approval criteria. Not only that, drawings can describe a part's relationship to other components, and they describe the status of a part – is it a concept, a prototype or is it a fully approved production item? So maybe they are less museum piece and more like baroque paintings in an art gallery, then, alive with meaning and symbolism.
Like sketches, CAD or FEA models, drawings are relatively easy to create. But they require the patience and clarity of thought of a monk to really get right. Drawings are so full of information and so key to the production of real things that getting things wrong results in great upheaval in correcting those mistakes. The slightest functional change in a drawing sets off a chain reaction of work for lots of people. Revision levels are updated. Bills of materials, ordering systems, pricing systems need to be updated; the lot. And it gets worse if you need to inform customers. Therefore, change is resisted. Therefore, getting drawings right first time is crucially important.
But, preparing drawings is still very much a chore and feels like paperwork. The question is: do engineers still feel as if they are engineering when they are ploughing through the change request and drawing management systems just because someone needed to change the length of a screw by a millimetre? I certainly don't – in fact, I despise such paperwork with a passion. But, seen dispassionately, with the clarity of that self-same monk who created the perfect drawings in the first place, it's still engineering, like it or not.
What do you think about drawings? Do they play a large part in your work, or have they somehow become history where you are? Is 2D redundant in this 3D printing world? Drop your thoughts in the comments below and let's talk about *yawn* drawings…!
Thanks to SomJuan for the blueprint photo