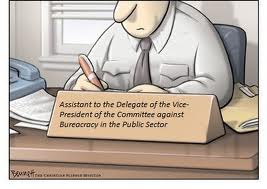 Despite FluxCorp being a multinational corporation, the amount of bureaucracy that I deal with day-to-day is usually pretty minor. That's because I rarely stray outside of my job function. However, whenever I have strayed, that's when I notice the huge bureaucratic machinery operating (usually) invisibly in the background. A couple of years ago, our satellite office purchased nearly a million dollars of lab equipment. We wanted to move some heavy workbenches from one room to another and was told by our Real Estate Department that it will take 3 weeks to secure a quote from local movers and that the cost of moving would probably be $3000. With that much money in equipment, we also thought it'd be a good idea to get a lock for the door. Unfortunately, Real Estate said they first need to go through a procurement approval process for the purchase, then send out a purchase order from corporate headquarters to Home Depot, and arrange delivery to our local office. It'll take up to 8 weeks.
Eventually, we took the morning off, moved the workbenches ourselves, visited Home Depot to buy an $8.99 lock, and then expensed our $100 group lunch to the company. It just seemed more efficient that way.
Then there was that time when Payroll reported our income to the government in the wrong currency. Our local financial comptroller had been laid off, resulting in our payroll function being moved to our out-of-country corporate headquarters. Dare I say this was a case of not enough bureaucracy at the local level?
Such idiotic examples are minor irritants since they happen rarely. But what if part of your job function is to deal with bureaucracy on a regular basis? In a few months, I'll be moving up the food chain from being a grunt to being a grunt manager. Already, I'm being copied on e-mails about internal audits, external audits, and processes. Yes, yes, it's all important stuff. But I'm an engineer, right? Right?!
On a more immediate timeframe, the bureaucracy that I'm currently dealing with is government bureaucracy. Due to the recent job action at FluxCorp, my fate now lies in no small part with my soon-to-be communist overlords in China. Well, they're no longer communists; rather, they're Communists. And if I want to work under the Communists on a long-term basis, I must provide a good amount of paperwork. The graphic below shows the checklist of all the paperwork that's required: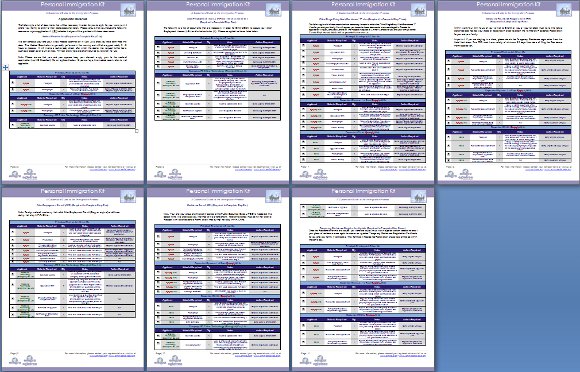 Almost every item on the checklist requires additional maneuvering through other bureaucratic mazes. For example, one item is getting a medical exam. This requires booking the exam at a Chinese hospital with the hospital itself requiring its own set of documents for the exam. Or the item about renewing my passport since mine expires in less than a year. So I need to go about my merry way to collect enough documents to satisfy my own government in renewing my passport. And so on, and so on…
So what bureaucratic nonsense have you had to deal with? Share you story in the comments below.
—
What The Flux is a semi-regular weekendish feature on EngineeringBlogs.org that follows the follies and jollies of an engineer in industry, yours truly.