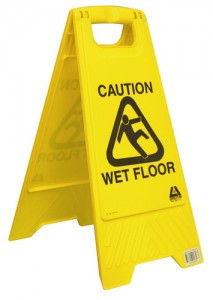 We've talked before about the effect of office space on getting work done, motivation, and having somewhere to tinker. But what about the facilities and staff support element of getting your job done? By facilities, I mean both the equipment you need to do the job (microscopes, CNC mills, 3-D printer, furnaces, or what not) and the space in which you do the work.
In an academic environment, there's often a dedicated staff member to help with training and maintenance on the bigger , shared pieces of equipment, like electron microscopes. My university has some fantastic facilities and support in this respect. I can't say enough about how wonderful these staff members have been. The equipment I have access to is cutting edge, and well-maintained.  However, the spaces themselves are a different story.
My group's optical lab suffered a major loss last week when a faulty valve in the ceiling dumped water in the worst possible place, destroying the main spectrometer. This was a week after they finally started repairing the disconnected HVAC system, which was never hooked up after renovations. The ceilings in the major hallways are missing many tiles due to water damage. Our major recruitment season begins soon, and I can't help but wonder how this will influence student's decision-making.
If you're an academic, how important were facilities in picking your current position? Industry folks, were facilities part of your decision or negotiation?