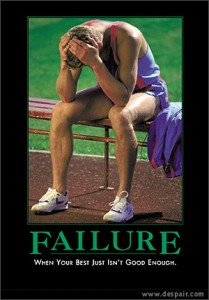 I've been totally swamped with proposal writing over the past few weeks, hence my erratic posting schedule. Also, right as I was going to sit down and work on a post, I found out that I was denied for another proposal, totally sapping any motivation to do anything useful. For those of you keeping score, I'm 0-5 in the my first 6 months with a bunch pending. That's not what I would call a stellar start to my academic career. Needless to say, I've contemplating career choices and shoulda-woulda-couldas, but I think that's only natural at points when things aren't going the way you envisioned. It's not all bad; I did get very good reviews from my Chair, which means in the Chair's eyes I'm doing some things right even though I don't feel like it is.
One of the proposals that rejected was in a Young Investigator/Young Faculty category. For those of you grad students who see yourself in a faculty role one day, they're designed to give you a fighting chance to get money because you will only be pitted against other newbies, not tenured faculty with uber connections. Now, when the YIA (young investigator award) winners were announced, I immediately started to googlestalk the winners. I wanted to know their profile, their research areas, who may or may not already have connections, etc etc. I'm going to put below two profiles of researchers who sought the same YIA and then point out a few things.
Candidate 1: PhD took >6 years, postdoc'd at two different world class labs for >6 years, started their Asst Prof position ~4 years ago, 40+ papers published. Summary: lotsa papers and 16+ years of high level research
Candidate 2: PhD took <4 years, no postdoc, started their Asst Prof position a few months earlier, 11 papers published. Summary: published a lot during PhD research, got lucking getting TT position without postdoc. ~4 years total research.
I'd like to reiterate that both of these candidates were pursuing the same YIA. And while I don't know what the other candidate's proposal looked like, I can totally see why the review committee could easily say "Yup, clearly candidate 1 is more qualified that candidate 2". WTF? There's a difference of 12 years between two people competing for the same YIA.
Look, I realize that I should totally be grateful for getting a TT position without a postdoc (and believe me, I am). And the fact that I did get offers from very good schools means that I'm doing something right. But, the point of YIAs is to ensure a relatively level playing field between junior candidates, and to me, that's not a level playing field. It's not even close. Now, from this, I'm going to draw two conclusions which I know I'll catch some flak for. (Yes, I realize that I am biased…)
Doing a postdoc appears to be necessary: That doesn't mean that I would 100% change places for a postdoc right now. But that little devil on my shoulder is saying "you could have accepted a high level named fellowship, done 3 years of kick-ass research, and made a name for yourself before testing the academic waters". I still think that when you get the call to the major leagues, you don't turn it down. But, if I had know what I know now about the level of over "young investigators", I might have thought about it for a lot longer.
YIA should be dated from PhD graduate date: Yup, totally biased. I know. But, if you had candidates that did their PhD research ranging over a 4-7 years, then the worst case would be about a 5-6 year difference in the levels of the young investigators. That's vastly different that a 12 year difference when you've had an army of students able to churn out papers over a 4 year period. Also, this would probably (after some transient period) put pressure on people to only postdoc for 2-4 years at max, which is what it was originally intended for. Postdocs weren't meant for researchers to basically be a research scientist that's paid in peanuts and pocket lint. They were meant to either sharpen your focus in a field or get additional training in a field that branches off from your original but without the burdens of classes and writing a thesis. Postdoc research has, at some places, morphed in to "getting cheap researchers to work on this problem", with no end in sight. Setting the limit on YIA awards to be 5 years from when you've finished your PhD would level the playing field a lot more.
I know this will probably stir the pot but from my perspective, it's severely tilted towards people who have postdoc'd and really screws over those that didn't.