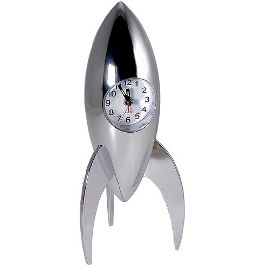 You may think we here at Engineer Blogs are "glass half empty" folks when it comes to employment and salary expectations for engineers (though really, the glass was poorly designed with too much capacity).  I've talked about the overhyped STEM recruitment here before. It's no secret I don't believe in an engineering or STEM shortage. I've looked at engineering employment over time and it doesn't seem to indicate  any increasing demand or a salary increase based on a higher market value for engineering professionals (unless you're a software engineer).
Cherish just wrote last week about engineering being a common background for CEOs. One of our commenters asked whether engineers need really be concerned with having more options beyond the engineering job. As a former non-engineer in the workforce, I can certainly sympathize with this perception. It does seem like an engineering degree is much more the key to a job and middle class prosperity then many other disciplines. But is that really the case? I wanted to look at some of these perceptions and some of the real numbers for engineers.
Last week the Commander in Chief himself stooped to asking to look at the resume of an unemployed engineer. He seemed as surprised as anyone that an engineer could be unemployed and job hunting. What the media attention on this skipped over was the woman who asked the question brought up one of my favorite issues: the H1B Visa. Since 2004 every single H1B visa has been filled up to the US cap.  Those include all the years of this recession and cover 65,000 basic visas, another 20,000 for advanced degree holders, and an additional overflow from those who are exempt from the visa cap (which includes Universities and research laboratories).
The Bureau of Labor Statistics just did a highlight on what it calls Architecture and Engineering Occupations (which does not include software or computer engineers). They looked at total employment among other things.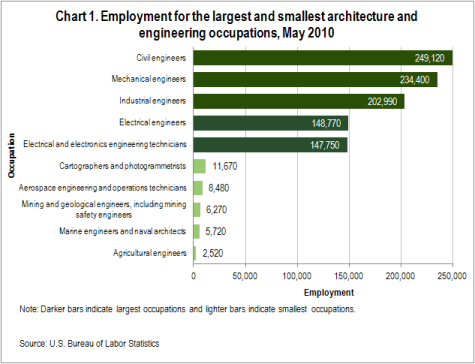 When we're graduating something like 60,000 engineers every year in the US, awarding a total of 85,000 or more visas which trend towards STEM disciplines, and the total employment in each engineering discipline is only in the couple hundred thousand you can see why engineers need be concerned.
According to a recent Georgetown University study unemployment for experienced engineering college graduates is 4.9% which seems pretty low compared to the national average of 8.5%. But experienced graduates in health, education, life and physical sciences, law, recreation, agriculture, and industrial arts all have lower unemployment rates. When you look at recent graduates, engineers have an unemployment rate of 7.5%. True better than the national average, but not the guarantee for employment that engineering is advertised as. While engineering graduates have lower unemployment rates than those with social science, arts and humanities degrees the small difference between the rate and the national rate would seem to imply demand is only slightly higher than for the average college graduate. In fact the unemployment rate for all college graduates is currently 4.2%.
So what conclusions can we draw from this data? It's obviously still better to have a college degree than not as the unemployment rate is about half the national rate. But an engineering degree in particular is no magic bullet to securing a job. You still better have a real interest in the engineering profession to get you through the inevitable downturns and layoffs (as Fluxor can attest to). I continue to think it's incredibly short sighted to play up this idea of engineering jobs being in demand while not effectively training Americans for jobs we are happy to bring visas in for. If we had a real long term need we should be growing engineers on our home soil not using stop gap measures that I am highly suspicious are just means of keeping pay low. However, I encourage you to browse through the links and reports I've discussed and make up your own mind. I would be interested in hearing engineers and non-engineers reactions in the comments.