It's been a few weeks now, but I was advising a few younger friends about starting salaries and thought it'd be interesting to write about. They are entering the work force for the first time. And while there are often career services available at a lot of schools, they often don't provide the perspectives that other engineers might be able to offer. So yeah…I guess that other perspective is…me! At least one of the many perspectives you can get. You can ask just about anyone.
So what do I have to say about it? Only what I know so far.
First, you might be surprised at what you're making when coming out of school. Unless you have a badass co-op or internship while you are in school, you'll be earning a lot more money than you'd be used to. But here's the part you might not realize: Your salary might seem high now, but your earning potential will even out. Over time, engineer salaries don't increase nearly as much as they do at the beginning. You might be saying "Well, who cares? I am just starting out? I'll worry about increases later!"  But here's the real point of this: your starting salary matters.
Another relevant and surprising fact when coming out of school is that I wasn't being paid as much as I thought I should (OK, not that surprising). But the thing I didn't realize is employers don't say, "Hey Chris, statistics be damned, we'll pay you what we want!" Despite their desire for you as an employee, it's in your future employer's best interest to lowball you. For the exact opposite reasons from above. Sure, you might think you're worth a ton, but your future employer is simply trying to get the best deal. Why should they pay you 50k when you might take 45k?
So we've discussed the beginning of your career, but what about other expectations you might have. How about that 3-5% raise every year? Those seem well deserved don't they? Shouldn't you assume you will be rewarded for the hard work you put in every year? Well, you might just get that. Or you might not. Assuming linear growth over the course of ones' working career is foolish. As you become an expert, you will begin to hit a ceiling of what a company will pay. Either you do not justify the increased cost or you are at the mercy of what the employment market would bear (i.e. other companies would only pay you X amount, so that's what your company will pay).  Let's take a peek at what that would look like with a $50000 starting salary (close to the average in the US if I'm correct) with both incremental raises and a more realistic log-based raise scheme: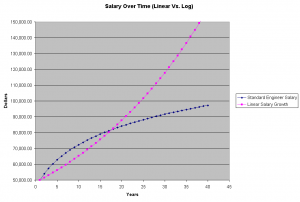 The resulting fact is that many who might not do otherwise will jump to a position that has a higher salary potential because they get frustrated with the flattening out. This helps the person who is making the jump (possibly) but also holds the market for very experienced people at the flattened level. So what does this mean for a new engineer? Not too much other than to maintain low lifestyle inflation and if you cannot, practice your soft skills so you can one day become a manager.
A final note about the hiring environment today: it's a hirer's market. No future employee expects late 90s era salaries and bonuses and companies are taking advantage of the reduced rates. Expect to hear about it while negotiating salaries and for them to play on your fear of not being able to find other jobs. This doesn't mean you shouldn't do your research and come into a meeting about salary prepared to ask for what you think you deserve. And even asking for a little bit more (with research and justification to back it up) never hurts. Even if they turn that down, you will then have license to ask for other things they might be more willing to concede. It can be scary to ask for more, but there are many resources on the internet to help you out. As I told the friends I mentioned at the beginning of this article: if you have the numbers to back you up, it's like someone else saying you deserve more. You just point at the numbers and say, "here's what the market says I'm worth. If you want to offer less, you will need to explain why."
Finally, I thought I'd add a list of salary sites I've used in the past, but it's nothing special. You will really need to use all of these sites because often the most popular ones are the ones that give the best results. You'll also need to run multiple iteration in case your definition of a position is different than the survey. Getting the most information possible and summarizing it properly is the most important thing. Because for every sheet of paper you have saying what you might be worth, assume the person on the other side of the table will have their own set of numbers that say the opposite (within reason, of course). So here are those sites.
So my final word in salaries? Keep looking around. I've only done it a few times myself and I always feel awkward and that I messed something up. But this was the advice I offered younger friends and now have offered you. It's not easy and no one will care about it as much as you will, so study up. Have you done this more times than me and want to offer advice? Have you got any questions? Leave them in the comments and I'll try to respond.
[xyz_lbx_default_code]