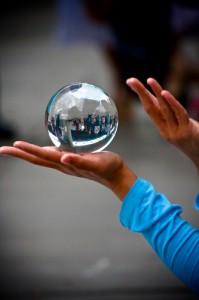 I've been fighting a battle at work. No, not literally. I don't want to get fired, I just got hired a few weeks ago. But I've been trying to convince co-workers and engineering management to buy a piece of equipment, specifically a 3D printer for doing prototyping (and yes, I've mentioned it here and on the radio show a few times). And I think I've narrowed the real issue and why I haven't been getting anywhere with them yet. How do you prove what the future will be like?
Personally, I have a strong dislike for prognosticators. Whenever I see a chip manufacturer or an industry analyst predicting how much a particular sector will grow in the coming year, I cringe. Sure, they know a little bit about the industry, they're in it! They see trends and they talk to people and they get statements from buyers and sellers and the like.  I get it. They think they know it all. But then almost on cue, 3 months later you see another article…"Oh my gosh, the chip sector didn't do what we predicted!". It almost reminds me of this scene with The Joker from "The Dark Knight", talking about the futility of plans:
[tube]http://www.youtube.com/watch?v=pfmkRi_tr9c[/tube]
"Schemers trying to control their little world."
Now, I'm not a nihilist nor an anarchist. Nor do I think that being wholly unprepared for the future is a great idea. But it's hinging every little action on a flawed prediction that rubs me the wrong way. Similarly, not taking action because of too little information or too much fear of the unknown isn't my thing. I believe in taking whatever information you can and trying to  do the best you can, with the knowledge that there will always be risk.
So what to do? How do I present my case, based on my somewhat limited information to try and prove my point?
Do I play the optimist card, and try and convince everyone that our needs for this new piece of equipment will be used regularly because of its use? I could, but that's like saying I need a new treadmill in order to start my workout program. That tact alone won't win any of my co-workers over.
Do I play the pessimist card, and try to show all the revenue losses and slipped schedules that we could miss if we don't have 3D models around to make snap decisions? I could, but then the argument would likely be that past products have made it out the door relatively on-time without one. I'm sure no mention would be given to the long hours into the nights worked in order to meet that arbitrary deadline.
People are naturally poor at predicting the future. In fact, the upsurge in the Agile Methodology that seems to be taking hold of the software community is based on this idea: Don't try and plan out a project for the next year, because it won't work. Instead, try figuring out the next two weeks.  But again, how do I relate this to a piece of equipment I want to buy? If engineering teams around the world can't hit a completion date from months away because of poor prediction skills, how can I possibly know what all we could use a printer for on a given project. All I know is that I would manage to use it because I have ideas bursting from my head every other day.
So what did I really do? I played the realist. I laid out a most use case and a worse use case of the parts I think we'll need made in the next few years. Then I took some quotes I had from local print shops and tried to apply it to what we might need in the next year. Finally I did a crossover chart to show when we might hit the breakeven point on buying a 3D printer, especially given the cost of materials, which is still quite high (I was able to estimate based on the $/cu. in. figure the printer manufacturer gave me for replacement cartridges).
In the end, I sent out this calculation to all of my co-workers and superiors for review; however, I also included a note saying that my calculations could have easily been flawed and that we might need the printer a lot more or a lot less, and there's really no way for me to know. I also added that having a printer in-house is a lot different than being able to send out for SLAs when you think you have enough of a need. If you remove the barrier to doing something and it becomes a commonplace practice, you really never know what you'll be able to come up with. And I think that's the basis behind Research and Development. You've gotta try lots of stuff, because you never know what might come out of it.
So I continue to wait. I'll check back with my co-workers soon, but I really don't have anything else to say to them. The data is all out there and I have to wait for them to make a decision (specifically because I'm not an ME, nor the one that would be the primary designer of the plastic stuff we'd need).  I know I can't predict the future, so all I can hope is that I made a strong enough case for them to take the same leap of faith that I want to take.
What about you? How has forecasting and prediction affected you at your job? Do you have to try and divine what the future holds in order to make purchases or plan schedules? How do you cope with it as an engineer with less-than-complete information? Let us know in the comments!
Thanks to Garry Knight for the crystal ball picture.