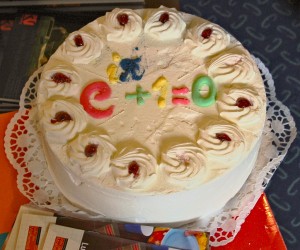 EngineerBlogs.org is officially one year old! Our first post was January 13th, 2011. Crazy! It feels like it's a lot more, but I guess that's what happens after posting once per week (a quick look at my other sites and you see why 1x per week seems like a lot to me).
First and foremost, I'd like to personally thank all of our readers. Your wonderful feedback has encouraged us to keep writing and producing what we hope continues to be good content. The field of engineering is not a field littered with authors, so I'm glad we managed to cobble together some great minds and pens (and at a wonderful price!). We will continue to try and come up with interesting and relevant topics throughout the next year, as well as add new voices to the conversation.
So let's look back at this year. What did this year look like in terms of blog stats?
294 posts
8 full time and 3 guest authors
176,249 pageviews
249 followers of our Twitter account and 149 on our Facebook page (both are easy ways to get notified of new posts)
307 subscribers to our Feedburner feed
$0 taken in advertising
The topics of some of our top posts have been an interesting insight into what engineers are interested in reading about (and some…not so much). They are often influenced not just by who is reading our site but also who is sending web traffic our way. We have seen some great bumps in the past due to being included/linked to in large scale publications. Here are our most popular posts, in order:
We were glad to have all of our writers and were sad to see when some of them left.
Fluxor
bowed out to
spend more time with his family
,
Paul
left to
focus on more technical articles
at Element14 and other sites and
Miss Outlier
recently stepped down as a result of PhD work and a fledgling startup company. We miss all of them but love that their work continues to live on as wonderful articles that engineers can continue to enjoy. I'm glad that I have other great engineers still here like
Cherish
,
FrauTech
,
GEARS
and
Miss MSE
. They have all written insightful, in depth pieces and will continue to do so, I'm sure.
So what about you, dear reader? Do you have what it takes? Do you perhaps have a new year resolution to get your name out there for both authorship and engineering? Would you consider writing in a part time or full time capacity? Hopefully we have inspired one or two other engineers to pick up the proverbial pen, if only for the fun of it. If so,
let us know on our writer request form
. Whereas we were asking for experienced bloggers at the beginning of the year, we've begun having guest posts, to get different voices and to try out writers that might not have ever written before. (And please, don't feel compelled to leave us a note; only if you're actually interested).
Thanks again for reading throughout the year. Hopefully you will continue to enjoy what you read and will continue to let us know what you think in the comments section.
And additional thanks to gnu1742 and all the other wonderful Flickr members who CC license their photos. We'd be a photo-barren site without you!