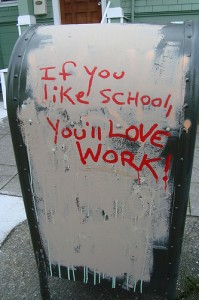 This is a guest post from Carmen Parisi of Fake EE Quips. He's the first of many guest bloggers who will be popping in to Engineer Blogs on a regular basis to add their opinions and insight into the field of engineering.  
Though I've only just recently joined the workforce and am still a pretty green engineer, I've noticed some differences between school and work. The differences between the two aren't necessarily good or bad; they just take some getting used to. From the outset, I can name my favorite aspect: being able to leave work (both mentally and physically) around 5PM. Knowing I do not have to slog through hours of homework once I get back to my apartment is a fantastic feeling. I'd almost forgotten what hobbies were!
The rest of the things I've noticed so far aren't nearly as polarizing but still worth noting. Let's have a look.
With the exception of "no homework", I can't definitively say work is better than school or vice versa. I'm not exactly sure I want to make that distinction either; there are pros and cons to both in my mind and I'm thankful for the experiences each has offered me.
Though you might have just graduated or you might have graduated 30 years ago, what differences did you notice when you left school to begin working? Let us know in the comments!
Thanks to Yung GrassHopper for the apropos photo!