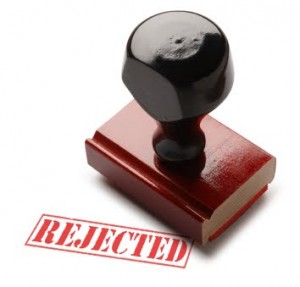 A few weeks ago, I had my first proposal rejection and it wasn't pleasant. I definitely had to break out the scotch. This was a huge proposal with many universities involved and while I counted myself fortunate to be a part of the team, I'm still disappointed. My part was a supportive role for the overall proposal ideas, but it still would have been a significant chunk of money to jumpstart my academic career. The one thing that's really disappointing, especially since this was my first proposal, is that the entity holding the purse strings is not one that gives you feedback but just says "thanks but no thanks".
When I started writing my first couple of proposals, I dreamed with delusions of grandeur (hitting my first 5 in row or something stupid like that) but I definitely feared striking out. My startup funds are available for the first two years so I basically must hit at least one proposal within my first year to ensure I can keep paying my PhD student (due to funding lag) after year 2. As it stands, I'm 0-1 with 6 proposals still pending. I still think that's a good number of sticks in the fire waiting to spark. However, I'm paranoid it's not enough so I plan on adding more. There's several agency YIPs coming up and then the next NSF call and finally the CAREER call in the spring. I'm determined to hit all of them.
This whole process of getting one proposal rejected and then reacting by submitting 4 or 5 more in its place reminds me of that scene from Varsity Blues. For those of you who have seen it, this YouTube clip should be familiar. Now that I have my first proposal rejection out of the way, it's time to puke'n'rally.
For those of you in academia, how did you handle your first proposal rejection (assuming you've had one 😀 ). Any tips for us lesser mortals from you senior folks with lots of funding experience?
[Thanks to the Grant Goddess for her picture.]