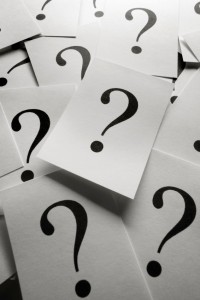 One of the skills that engineers are required to have is critical thinking and the ability to quickly assess and analyze a situation. [Good] Engineers are often brought in to situations because they have a certain background or have worked on a particular topic before but this new situation is slightly different than their previous experience. However, the time to get immersed in a topic is limited and often, they're asked for their opinion the same time that they're learning about the new topic. This is difficult situation because the engineer often doesn't have all of the pieces to put together a complete puzzle. However, they often have enough to get a clear picture of the situation to assess accordingly.
Because this is a skill needed by engineers, one question for engineering educators is "how can this skill be taught?". The best method that I can think of that can at least challenge students along this line is to only ask open ended questions. This is one area where I've received a lot of complaints from students, which has required me to repeatedly justify why I ask certain questions on assignments, lab reports, and my comprehensive exam. In the past, students haven't always been required to write a lab report, but rather answer a series of questions on specific tasks in the lab. This semester, I've reverted back to full lab reports to reinforce technical writing but I've also changed the wording of questions to be open ended, rather than looking for a specific number/answer.
I've found that students struggle with this because instead of computing Mohr's Circle and reporting the answer, they are asked qualitatively "What does the results from Mohr's Circle tell you about the loading of the beam? How might this system be modified to limit the failure due to excessive stress?". This forces students to not only understand the surface issue (computing stress from Mohr's Circle), but also to use that information to make engineering judgments that do not have a clear defined path. For instance, they could discuss how the shear stress is high and the material should be changed because it's stronger in shear. Alternatively, they could discuss the profile of the beam. There are a multitude of options, so long as the student explains their thought process and adequately justifies their decision.
On the flip side, open ended questions present a challenge for the instructor (ie: me) because open ended questions are difficult to construct and grading evenly is difficult. Also, when teaching a class for a second time, I have to change the questions because they will have the previous semesters' answers. I have a sneaky suspicion students are already using previous lab reports (I haven't changed 100% of the questions yet) so that's something I'll need to keep on my toes about.
What do you think about the balance between direct questions and open ended questions? Should freshmen and sophomores get more direct questions while juniors and seniors get more open ended? Or should there be a mix at all levels?
[photo credit: when i grow up]