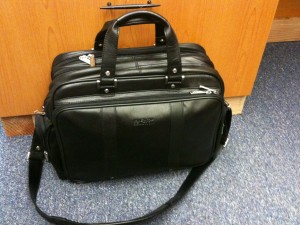 One of the things that I've been doing lately now that I'm at SnowU is carrying papers back and forth between work and home. I was using a small (and pretty rough looking) Dell laptop bag from about 5 years ago. Because that only held the laptop and a few minor things, it was a pain to travel with and I could not take many papers with me. As a present for the holidays, DrWife decided to get me a new work bag, which is fantastic. Now, it wasn't a complete surprise because I helped her pick it out because features, looks, and functionality are depend on the individual using it. Some of the things that I may like may be things that other people don't like (and vice versa).
I wanted my work bag to meet at least three functional requirements (and a fourth, if you count looks). 1) The bag has to be able to carry a standard size laptop  (no net books or iPads) with sufficient space for holding the power cable and cords. 2) There has to be room for carrying around papers so I don't have to take two bags back and forth to work. 3) The bag should be sufficiently large to take a change of clothes with me for a business trip (more on that later) but shouldn't be too bulky or uncomfortable to use on a daily basis.
So this Kennith Cole bag was one of those bags that meets all of my criteria and looks good IMHO (No Dr. Becca, I didn't take your Kate Spade bag). Plus, it wasn't too expensive on ebags.com. While the first two criteria may be pretty standard, the third one (about the clothes) isn't so. I've seen a lot of people carrying around these small rolling bags that I find very bulky and heavy (hence the wheels). At the same time, I do find that it's pretty useful to be able to carry some extra things if needed. In the past, when I would travel to a conference for a week, I would have my small rolling luggage, plus my laptop bag. However, I always found that to be just not enough room. Often, I would put my laptop back in a much bigger backpack. At the conference I would only need my laptop back but with the travel, I needed a little more room. The laptop bag in  a backpack made security a pain. So I'm trying to avoid that as well.
Now, I will be doing more 1 night trips which I've found to be tedious with the rolling luggage and a laptop bag. With the overhead space limited in planes, carrying two bags means one has to fit under the seat in front of me. That's really uncomfortable for someone that's 6'4″. For single night trips, that's annoying. But with this bag, I presume it will be a little easier. Wearing the same suit on consecutive days isn't too big of a deal, so all I need is a fresh shirt and some underclothes. With this bag, it has an expandable section that's perfect for carrying 1-2 nights of extra clothes, meaning I won't have to bring a rolling luggage. Now, I make sure to bring a plastic bag to put clothes in; you don't want to stink up the meeting. 🙂
I'm headed out on a business trip today for a night, hence why I'm using the bag before the holidays. I'm looking forward to the trial run to see how this goes. What about you? What are your requirements for you business bag? Do you separate work stuff/laptop and close? Or do you try to get it all in one? I'm curious to see the difference between men and women on this one.
(PS: yes, my desk is propped up on 4×4's to account for my height)