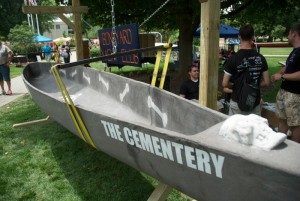 Engineering education is something that gets discussed a lot around here, and around the web. However, most of these discussions focus on what can be done within the classroom context. There are just certain limits to what can be done with a group of 30-100 students at one time, and there are many economic reasons to keep large lecture classes around. When it comes to studying theory, this method can be highly effective. But what about application? Most students struggle with bridging the gap between theory and application. Lab classes can be one way of connecting the two, but these are often expensive in equipment and instructor time.
I strongly feel that every engineering undergraduate needs to do at least one project outside of the classroom. Many schools have some sort of senior design program, but by then, it may be too late, as students have left engineering (the leaky pipeline issue being another regular topic in the blogosphere). There a few different forms this can take.
First, there are project teams, like Solar Car,  Formula SAE,  the AISC steel bridge competition, or Concrete Canoe (to name just a few). There are also opportunities for undergraduate research at most engineering schools, and then there are co-ops and internships out in industry. Any of these are a great way to get more practical experience in engineering, and look good on a resume, but there's more than that. You get better one-on-one interactions with your boss or advisor, and may get more nuanced feedback. Unlike (most) exams, there is often no correct answer to what you're doing, which can be a very important life lesson. Inevitably, something won't work, and your lab TA won't be there to fix it. You have to learn how troubleshoot and seek out help.
It's also a chance to explore a subject in more depth. As an example, my classroom eduction in photoelasticity consisted of about 5 minutes in a photonics course. However, by being involved in undergraduate research, I learned much more about how to quantitatively analyze stress fields, and about all the things that can go wrong in designing an experiment. I also got to be very friendly with our machinists, as we debated how to make to parts. When I got to stress field calculations in class, they clicked much more quickly because I already had an intuitive grasp of what was reasonable.
Experience in industry has its own benefits beyond getting a chance to see the practical applications. In some fields, it's almost required to have some sort of experience in order to get a job when you graduate. You can start to form a professional network outside of your home university, and if you're lucky, an internship can lead directly to a job offer.
What experiences did you have beyond the classroom that contributed to your education as an engineer?