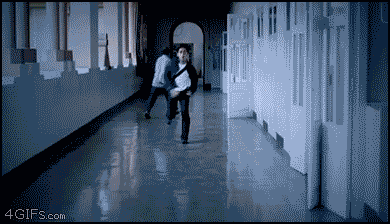 Today I did something horrible: I cancelled my classes.  I really didn't want to, but my younger son had to be taken to the ER for some stitches.  (He ended up not getting them because, after hemming and hawing a bit, the doctor decided it was looking fine and the stitches would be more traumatic.)
But back to the topic at hand, I hate cancelling classes.  The students are very unforgiving of late and absent professors, something I discovered when I was on a much bigger campus where I regularly showed up about 30 seconds prior to the beginning class.  Apparently punctuality is actually lateness in their eyes.
I remember one of my professors in undergrad who showed up about 7 minutes late for class once.  We were all just getting up to leave when he walked in.  My infantile (and entirely fictional) telempathic abilities picked up a huge, collective sigh of disappointment when he came in the door.  If only we'd left a few minutes earlier!  He saw we were about to leave, and he informed us that, as an associate professor, he was entitled to be a full ten minutes late before students could leave.  According to him, we were also supposed to allot 5 minutes for an assistant professor and 15 for a full professor.
He mentioned nothing about grad students and lecturers, but I'm guessing showing up less than 2 minutes prior to class is sufficient reason to leave.
Most of my professors have been fairly punctual, but a friend once complained that one of her professors was chronically late.  She started keeping track of how late he was in thirty-second intervals.  Then she calculated out how much of her tuition she should get refunded as a result of missed instructional time.  (She transferred out of engineering, which I couldn't understand given this is exactly the type of thing an engineer would do.)
I find this all amusing because the students, especially those that complain the loudest, are often the ones who will straggle in to class fifteen minutes late.  Then they want you to explain everything you've gone over twice already for everyone else.  Still, I prefer they come late rather than not at all…especially if they try to make up for it by scheduling a meeting outside of my regular office hours.
I wonder if these students are the ones who later show up late to meetings at work.  Showing up more than five minutes late for a meeting at work means it's just better if you don't come.  Usually this is because you'll end up spending time reviewing what was already said using a 1-to-1 time ratio.  However, if you don't show up at all, someone can probably summarize the most important points of the meeting in a five-minute (or less) overview.  This is significantly more efficient and less boring than reviewing in the meeting.
I'm torn, therefore, as to whether I should loudly berate late stragglers on the grounds that they likely will end up becoming the engineers that show up to meetings late and make the rest of us insane or if I should just be happy I don't have schedule extra office hours.
What do you think?