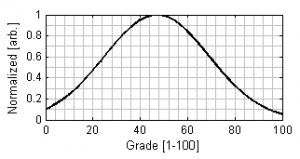 As you can see from the mean (47) and standard deviation (22) of my comprehensive exam results, the numbers are a lot lower than I expected. I thought the exam would be tough, fair, but tough. I did get comments from students saying things like that but nevertheless, the numbers are lower than expected and basically show more than 23rds of the class would be failing.
I mentioned a few weeks ago at GEARS that grades in engineering programs are skewing towards the 80-90 range. I would prefer a system that grades 0-100 (0r 0-10) where above a 50% is passing. While that won't fly academically, it's probably a true representation of the material learned by the average student. But because educators must deal with this grade inflation and dissatisfied students in a course are more likely to write negative reviews than satisfied students writing positive reviews, this presents a significant problem. It can be stated simply as follows:
How can the results of any exam with extremely low and unacceptable grades (for example, this 47 mean grade) be transformed in to the 70-90% Gaussian that is expected (and needed)? And as a follow up question, how can this be done effectively from the educator's perspective and the students' perspective without removing incentives for the high performing students to work hard?
I'm going to focus on three different methods that are typically used. If any of you readers out there have more, please share.
The Curve – One of the most common questions I received about this exam was "what's going to be on the exam?". The second most common question was "Is there going to be a curve?". My answer to that is a laugh and an emphatic NO. Curving an exam is pointless for many reasons, but I'll just point out a few. It doesn't force students to learn from their mistakes. If you curve upward to fit some ideal distribution that you think the class should be at, then you must also curve downward when everyone does very well. Curving is basically the easy button and a lazy way of educating. And so on. From a workload point of view, I totally get why prof's curve. It's difficult to make a fair but comprehensive test that challenges the students but is doable. Plus, with all the other requirements (remember, teaching is only 30% of the job at major research universities), taking the time to do this right is draining from other endeavors. But I see why some profs do it.
The Busy Work – Essentially, this is recognizing ahead of time that students will fail the exam. By giving them a ton of assignments (HW, projects, in class quizzes), the weight of the exam is diminished. Even though a student may fail the exam, it's only 5% of the overall grade, making it insignificant. I don't like this approach for three reasons: 1) the real world isn't like this. You really only get a few opportunities (if that) to make something count. 2) busy work is pointless for the truly bright students. They should be putting their time to better use. 3) places a lot of grading emphasis on TAs (often). I think TAs are great for helping out with lab classes and grading HWs but that's where it stops in my opinion. But if you have a ton of other assignments, you may be too reliant on them.
The Make Up – The third possibility is offering some form of make up work to earn back points. For this exam, rather than giving the students another assignment or additional problems, I gave the students the opportunity to rework the exam. If the student corrected all of their mistakes, they could earn back 50% of the points lost. I allowed this for a few reasons. 1) It will bring up the average grade, not to the 80-90% but better than a 47%. 2) This will force students who did poorly to actually learn the material. 3) the better performing students still earn a higher grade than the poorer performing students (no incentive to do well is lost).
Obviously, the curve is the easiest from the students' perspective and the professor's time allocation. But which is better for educating in general? Is there a better solution out there? I feel like my method for making up the work is a fair way to improve grades while still making the students work. Are there any other schools of thought on this?