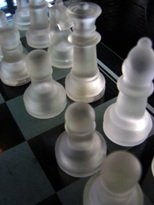 There's been a constant call in the media to recruit more people into science, technology, engineering and math. I've talked a lot about this issue on my own blog. Mainly that I believe the argument that we are graduating too few people into STEM disciplines is one propagated by industry to keep wages low on the one hand but also to feed their desire to expect more and more from entry level employees and cut back on training that was standard in the past. There's been reports on both sides, arguing that impending mass retirement will create a shortage and others that we're falling behind other countries and need to catch up. Other concerns are probably valid but mis-targeted. Analysis I have done on open jobs shows that the kinds of engineers we're actually short of are software engineers and programmers and developers rather than the more core engineering disciplines.
But a new study from Georgetown University's Center on Education and the Workforce indicates that we're actually meeting the numbers we need to fill open job positions and replace those who leave STEM. The report predicts STEM employment will only make up 5% of total employment in the US in 2018. They postulate that while STEM employees receive wage premiums, the demand for jobs in STEM is not the major issue. Instead they believe that we need more people with a STEM background who have what they call "core competencies".
They state some interesting facts about attrition in STEM. Namely that 38% of undergraduates who start with a STEM major eventually leave it, that 43% of STEM graduates go on to work in other fields, and that 10 years later 46% who started in the field with STEM bachelor degrees have left for something else. They attribute this to better pay in other fields and different values elsewhere. For better pay they are probably referring to the medical and financial industries and maybe patent law. I'm sure there are plenty of engineers who while they might appreciate many elements of being an engineer it's certainly not the solid paycheck that perhaps their intelligence and education could entitle them to elsewhere.
The study shows an interesting graphic that for every 100 students who graduates with a bachelor's degree in STEM only 8 will be working in the field 10 years later. But I think some of the study's conclusions are biased. I agree better pay elsewhere is certainly a key draw. But I'm not sure that's because other fields really need people with science or engineering degrees. Maybe as much as engineering could stand to benefit from a broader and more liberal arts background it could be many non-STEM college educations should place a higher emphasis on science and math beyond the usual minimal GE requirements.
What do you think? Is there a legitimate point to this study in that STEM education could be used for other fields? Or is the study just seeing the result of changing manufacturing and research industries that no longer value scientists and engineers? (Photo from Apteryx australis)