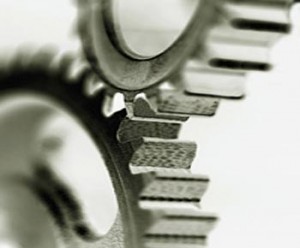 Lately, I've been wondering about my research group and if I'm bringing the right people on board in the right order. It's not that I have specific doubts about a person or anything to directly point at. Rather, I think everyone in the research group should operate, well, like a well-meshed gear set (pun intended, [photo credit]). Mentally, this makes perfect sense to me. I just wonder if I'm suffering from delusions of grandeur and they're going to mix like oil and water once we get past the initial phase.
I'm currently up to 5 students with sufficient overlap on projects to ensure they have a reason to work together and I have reiterated it in almost every group meeting. My students seem to want to work together and are open/friendly with one another, so that is a very good sign.
But more importantly, what are the key mechanics of running a successful research group? I've outlined a list of some possible ideas that I've tried to take in to consideration. I'd love to hear of any other suggestions or some third rails to avoid.
Project overlap: As I said, each member of my group has an overlap with at least one or two other members of the group. However, no student is completely dependent on the results of another student. I'm doing this to motivate my students to work together but not cause friction due to a reliance on another student. I do think it's very important to have project overlap in general because it gives the group a sense of identity.
Group Identity/Branding: How important is to have a "brand" for your group to identify with? For example, my group's name gives a sense of the type of research. But it also has a quirky acronym that can be used internally for gimmicky stuff. I think this is fine because I am trying to build a top-notch research group that is known in the field and a brand helps. But is the quirky-gimmicky stuff  worth it? My students seem to be on board but will that make them not take it seriously? Thoughts?
Meetings/Management: How often does your group meet? Currently, we meet 1-2 times a week as a group, pending university activities. Some of this is for a "news session/group update" but I do spend about 1-2 hours a week tutoring my students on topics related to the field. While this info is not always directly applicable, it is important because it's the basics of the field. Also, I find it easier to tutor them in a small setting than wait for them to comb through paper after paper. My intention is to give them a base such that they have a better overall understanding as they comb through the literature. Also, I will use these tutoring sessions to work on softer skills like rebuttals, publication reviews, presenting work, and LaTeX. Would you like this if your advisor did it more? Or would you find this a waste of time?
These are the main things that I've focused on because I think this is a good approach to building a group quickly but does take substantial time on my part. I willing to do it because the sooner I have them feeding off one another as semi autonomous researchers, the sooner I can delve deeper in to the research and not have to cover the fundamentals. Thoughts? Comments? Anything else I should add to my list?