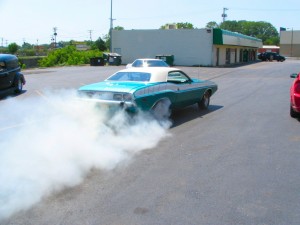 I'm not there yet.
I'm not burned out beyond repair, nor do I plan to get to the point where I throw my hands in the air and say, "That's it!" and walk away from engineering. No, haven't gotten to that point yet.
But I have been getting close.
I have been very lucky lately to have picked up a part time consulting gig. I work full time during the day at a company that allows me to work in a non-related, non-competitor field at night, so there's no conflict of interest. I really appreciate that. So at night after I get off of work for the day I drive home, eat dinner and start working on my consulting work for the evening. I am lucky enough to be working on a fun challenge, that happens to be design work. It's also slightly outside of my main expertise, so I am able to expand and practice other skillsets from what I do all day. All in all, I have really enjoyed the work I have been doing.
I also have some extra curriculars related to engineering. I have my radio show, which I record on Monday nights. That is a good way to expand my knowledge of industry topics (I do research and am sure to read EE-related articles throughout the week) and it gives me a chance to talk through problems or just shoot the breeze with my co-host. For my inner creative demon, I get to write an article here at Engineer Blogs once per week (obviously some weeks aren't just me complaining about how much work I have). I also get to interact with other fun, articulate engineers and try and guide what we want to talk about in a given week. Plus our joint writing efforts have given me an excuse to bug them on a Tuesday or Wednesday, just to chat. And though I don't participate I have heard there's a regular Tetris rivalry that also sprung out of EB. The social aspect of these activities is important, along with the professional development.
With all these activities, sleep has been a part of my life that has suffered. I have been up late, working on problems. And I can't just sleep in because I have my normal work to get to. As such, coffee has become a more integral part of my life, even more than it was before. The higher amounts of caffeine have been stressing my body out, as it does with most people.
Another development that has affected me is that my engineering-tolerant significant other has been living out of the house recently, in order to pursue some of her career goals; I completely support her in this venture, but it's still stressful. She also took the dogs with her,  so I have unfettered access to work nearly every evening when I get home (which I'm not completely convinced is a good thing). I get to see them all on the weekends, which is nice. Unfortunately though, the dogs were my main source of exercise, because we were walking them right when I got home. Now, I come home and go straight to work.
Aside from the time aspect, I think it's important to point out that almost all of my time is consumed by engineering. My job, my other job and my hobbies are all engineering related. If I was one to remember dreams, I'm sure there's engineering in there somewhere too (I don't remember them when I sleep as little as I have been lately).  I have little variety in my life and that is what ultimately led me to believe I was nearing burnout. I was sitting at my desk the other day, looking at what most EEs would consider to be awesome electronics; I was just completely disinterested. I had had too much. I had been staring at them too long. So I took a break, talked to some friends at work and was able to calm down a little bit and get back to work.  I also started formulating a plan to get out of the rut I was feeling at that moment. If I continued feeling that way, all of my activities would go downhill in what I can only imagine is a self-destructive spiral.
So what have I been doing (or planning to do) in order to lower my stress levels and prevent burn out?
Work less — Duh, this is an easy one, though not as easy as it sounds at first. I have been working towards a very specific milestone in my consulting work and once I reach it (I'm close), I'll be able to scale back my hours (possibly). My day job has the possibility of ramping work significantly soon, so I need to ensure that I am able to balance the two, as my day job takes priority.
Walk— On nice days, I can go for walks at work. This is helpful on two levels. I usually ask co-workers (from the day job) to go with me. I can talk through work problems, have a casual chat or complain about life. I get to listen to them too, which gives me perspective (my problems are hardly big problems in the grand scheme of things). The other is exercise. Granted, it's not usually rigorous exercise, but if I'm working at night, every little bit helps. I have also been standing while working at home on my workbench, as this prevents poor posture and is a very passive form of exercise.
Do other things — As I mentioned in my previous post about the engineering learning process, I used to play guitar the night before tests because I was procrastinating. It was also because that was a form of stress relief for me. I could play a song I already knew well, or try to pluck out some new tune, and I became centered. It still feels good to pick up my guitar and play, even if it's nonsense. I need to do more of that. I also need to have hobbies that aren't career related. I've begun reading more, so that's a good start, but need to stick to fiction or something else non-educational (I'm a self-help book junky).
Spend time with family — One thing I've been focusing on is spending time with my family when they aren't out of town. It'd be easy for me to continue using weekend time to do engineering work (and it still will when necessary or is an emergency), but I need to spend some quality time hanging out and concentrating on my relationships. Spending time with loved ones is another form of stress relief (…most of the time) and it's important to focus on. And much like GEARS wrote this week about work-life balance, if people don't like that priority, "Tough Luck".
Eat healthy, get sleep — I was reading about concentration the other day and how before a doctor will even begin to consider medication for a person who suspects a problem with their concentration, they require that you get on a rigorous sleep schedule and eat regular, healthy meals. If I don't begin doing this, I can't expect to have the ability to perform my job(s) at my best level, nor can I expect to enjoy my engineering-related hobbies. This will require self-discipline, nothing more. But I will promise here that I won't write on this subject again until I have started eating healthier and started sleeping close to 8 hours.
Needless to say, I'm not burnt out yet, but I very easily could go over the edge. My life needs a little more balance and I need to be the one to impart that balance. I'm sure I'm not the first one to feel this way, and would love to hear about your experiences. Have you ever become burnt out from your particular flavor of engineering? What did you to pull yourself back from the brink? What kind of stress-reducing activities do you participate in that help you maintain balance? Please share in the comments!
Thanks to rocketjim54 for the smokin picture