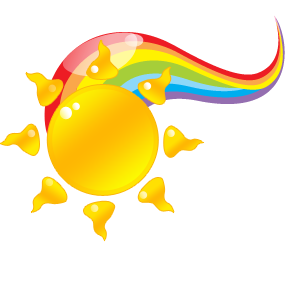 A couple of days ago my colleague GEARS covered some STEM Employment Data that the US Department of Commerce recently released titled STEM: Good Jobs Now and for the Future. Regular readers of mine know I tend to be overly critical of these sorts of assessments. I tend to see them as optimistic and naive.
On my own blog a couple weeks ago I talked about engineering jobs by discipline, then I looked at engineering employment over time and engineering pay, and then I broke down engineering employment and pay for mechanical, civil, and electrical engineers. One of the favorite myths the powers that be like to toss around is that a bunch of engineers and technical workers are going to suddenly retire and STEM jobs will be in demand. So in my eyes this report isn't a whole lot different.
Their two major claims: that a STEM degree leads to lower unemployment and higher pay. Their report states that non-STEM bachelor degree holders earn about $58,000 a year compared to an average of $74,000 a year for STEM degreed people. But this doesn't seem to agree with a recent census report called education pays. That states the average pay for someone with a bachelor's degree is more like $54,000. So where does this new STEM report get its data?
They also have a nice little graph on unemployment.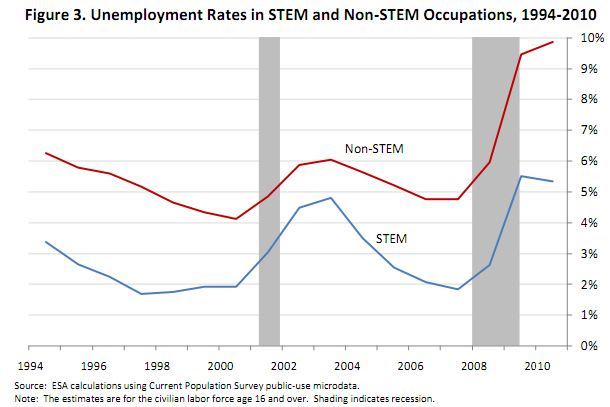 What do you think the STEM unemployment looks like in the end there, maybe 5.5% in 2009 and a little less in 2010? Well again, according to Bureau of Labor Statistics data the unemployment rate for everyone with a bachelor's degree only was 5.2% in 2009 and 5.4% in 2010. So having a bachelor's degree appears to be about as good a way to stave off unemployment as being in STEM. Also, if there was a real demand for STEM you might expect to see a negative correlation between pay and employment. Afterall if demand outstrips supply…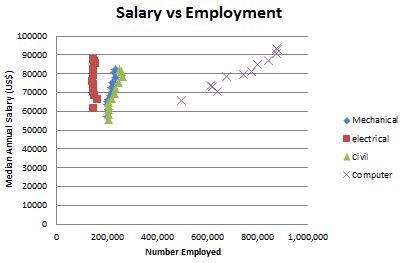 Instead it looks like salary has varied almost independently of number of people employed in various engineering disciplines. There's even a positive correlation when it comes to software and hardware engineers. And if you take a look at my blog post on engineering employment over time most disciplines remained flat for employment during the recession. A more detailed look at mechanical, electrical and civil engineering employment shows civil and electrical have taken hits during the recession, though not substantial.
So what does that say about the data from the commerce department? I don't believe there's an intention to mislead but I do think there's been a societal trend to drink the koolaid on this one. Education is not the sole key to high wages and low unemployment. At this point demand is more of an issue than supply and I don't see any proof we have an undersupply of STEM educated and qualified workers. In fact I'd argue the opposite, and that while a lot of STEM recruitment is well meaning and a good idea I think it's heavily encouraged by industry who would like to see these wages move down rather than up.
Well readers what do you think? Does the Commerce Department have a case here that a STEM job is causation to higher pay and lower unemployment or is there some correlation and some overstated facts? Am I too cynical on this one?