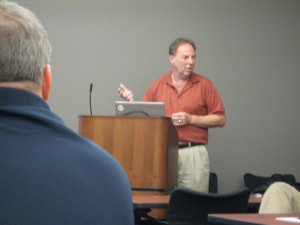 One benefit to being part of a large(ish) corporation is purchasing power (not super large, but big enough to turn a head or two). You get lower part costs, you get more guarantees of delivery and you get better support. And sometimes as part of support, you get to talk to some very smart people (hardly exclusive to when you're an important customer).
Well, let me back up a little bit. Sometimes you get to talk. And sometimes you only get to listen. My issue comes up when vendors come in and say they want to talk. That they want to have a 'conversation with their valued customer'…and then proceed to plow through slides that you have no interest in. This happens all the time and I dutifully sit through them, especially if they've bought me lunch (I can be bought with food, doubly so for good food).
My problem came a few days ago when I got to meet with a large semiconductor company and some of their very smart people. As in the ones who develop the technology used for the next 5-10 years (sometimes referred to as "technologists").  The session was prompted with the promise of a conversation. Very Smart Guy (VSG) got up and began talking about the finer points of semiconductor processing. He told us all about the deposition and epitaxial growth and oxide etching and all those fun things. Really, I do think they're fun and interesting; I was talking with Jeri Ellsworth about some of these very things this past week on The Amp Hour and I used to work in a chip fab. But that wasn't the problem. The problems was that I wanted to have a conversation that I was promised.
45 minutes into the presentation, one of the other representatives cut in and stopped VSG from the roll he was on, talking about all manner of process techniques. "Relief!" I thought. But no, after a very brief discussion, down we went, back into the depths of how to make sand into chips. What was my response to this? Did I stand up and shout about them filling up my precious schedule? Did I storm out of the room? No, of course not. They brought cookies, silly! I sat there and munched delicious treats from a wonderful Italian bakery and I jotted down some notes about my frustrations. So let's go over why this approach did not work, with me, nor from my colleagues (I didn't survey them afterwards, though may later).
Know the end use — In my case, I found myself thinking, "We are not process engineers, we are product designers!' This is not always the case and there are some people that would love hearing about the spectacular new things you are doing with your process. I'm just not one of them, or at least I wasn't today (see above). I imagine me (as a product designer) going to a customer and talking to them about how I designed it when in fact all the customer cares about is how they can use your product.
Know your audience — As in, try to actually know them. This can be done lots of ways (stalking comes to mind), but the best in the scenario I was involved in would have been to ask the local sales rep about what the company does and how we are using your products. That way we can skip the part of the presentation where you tell me about using some exotic part I'll never be able to use and we get my feedback on the parts of yours we use every day! And we can even hear about the new parts or tell you what we need that we can't get currently. Added bonus: it doesn't feel like you are being paid per slide ("Let's just get through these last slides") and instead feels like you care about what we want.
Feedback isn't just meant for op-amps — Truly the speaker didn't know us; unfortunately he also ignored my awesome advice (published after the fact) as mentioned above, in that he didn't talk to the local people. What's the next best thing? Asking your audience!  Right at the beginning. Just say, "Hey, so what do you guys and gals want to hear about today?" In the end, they're selling us stuff, so that makes it customer service, right?
Break it up — Feedback works not just at the beginning, but throughout the presentation. Though I'm sure VSG was prepared to talk the entire time, it's ok to ask if the stuff being presented is relevant (and if not, skip it). In the event that something is explaining building blocks of a topic–so that later concepts can be understood–it's ok to ignore requests to skip past a subject. but if you're talking oranges when your customers only buy/need apples, you're wasting everyone's time. And even that can be more valuable than a couple slices of pizza sometime.
Push your audience to speak up — Usually the problem in these kinds of presentations is that the speaker usually posits questions like, "Do you have any interest in ______ ?" With a room of engineers, you'll usually get one person who is curious about damn near everything (or just nods a lot). It's not always best to talk about it, especially if it means you'll run out of time and have to skip the good stuff later (remember, you should know your audience and what they work on before you walk in the room). And if you get silence, that usually means "no". My advice is that this means "ask again".
As a final note, I'd like to say that even after all of these finer points of getting a point across to a nerd, I still appreciated the fact that I got to talk to them. First off, they were really smart people. Second, hearing about technical stuff usually leaves me enamored with the people passing on their knowledge, because I'm…well, a nerd. And once the conversation kicked in and we started having some meaningful back and forth, it was quite a pleasant experience. If I had been told I had at the beginning that I just had to sit through an hour of presentation regardless, I might have been a little more forgiving (but wouldn't have had anything to write/complain about). So remember, if you're a vendor and heading in to talk to some engineers, be sure to be up front with them about your real expectations. And bring cookies.
What about you? Have you had similar experiences? If you're someone that has to go in and hold the attention of engineers, what tricks do you have up your sleeve? Let us know in the comments!
Thanks to John Hall & Associates for the picture