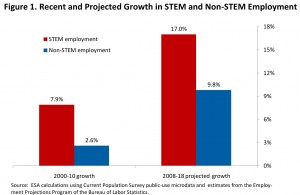 This past weekend, Ken Cid from the US Department of Commerce was nice enough to leave us  a comment about the administration's jobs prospects for STEM workers. The link to their blog is here [figure credit] and the actual report can be downloaded from here.
Naturally, this sent us Engineer Bloggers into a tizzy for two reasons. One, They found us! And two, we would actually have to craft some sort of response that might actually be read by government media folks. You'll probably find a better response from Chris Gammell or FrauTech, who are much better with stats than I am. Sadly, they post later in the week so you're stuck with me for now.
In Summary: The STEM Jobs Report says that 7.6M people or 5.5% of the workforce is employed in STEM fields and over the past 10 years, STEM fields have had more job growth than non-STEM fields. Also, the report discusses how STEM workers command higher wages than non-STEM workers even for similar education levels. The report also shows historical data for the past two decades showing employment trends.
I suggest you read the full report to get a sense of the data and see some pretty charts. I've copied Table 1 and Figure 3-5 here to make it easier to follow the discussion. There's basically two sub-topics within the report that I will comment on here: employment trends and education level premiums.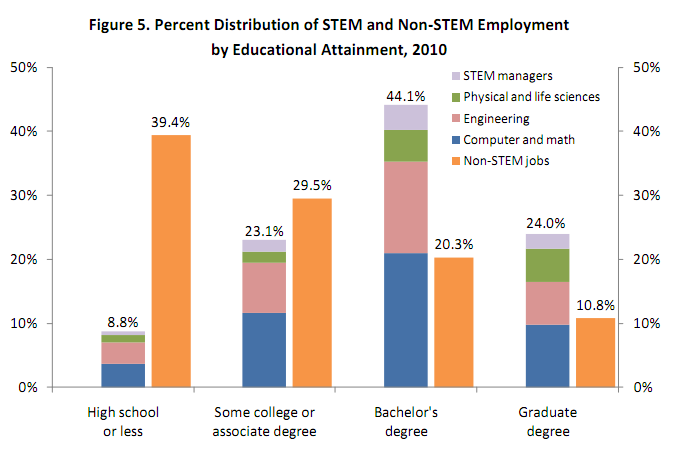 Employment Trends: The government report shows two very interesting trends in Figures 3 and 4. In Figure 3, the jobless rate is plotted for the past 15 years (highlighting the two recessions) for STEM and non-STEM workers. Clearly, there is an overall offset between their respective rates; the joblessness of STEM workers is roughly 50% of the overall jobless rate for non-STEM workers. But more importantly (to me), the trends, specifically during the recession, are nearly identical and actually slightly worse for STEM workers after the Dot Com bubble. Yes, STEM worker's overall unemployment is lower but if you have a job, you have the same likelihood of losing that job if things go south.
In Figure 4, I think a more accurate representation of the joblessness is shown. In this figure, they only account for workers with a Bachelor's or higher. The reason I think this is more accurate is because it is very difficult to get a STEM job without a Bachelors in something. From Figure 5, 68% of STEM workers have a Bachelors or higher. If you include people with some college education, you're over 90%. Thus, in my opinion, it's more useful to look at only people with higher education levels because most STEM folks have higher education levels. Figure 4 then doesn't paint as rosy a picture as Figure 3. STEM workers are more likely to lose their jobs when the economy goes south than non-STEM workers. That, to me, is a problem. If STEM workers are being let go, then what "thinkers" are left to help economy get out of a recession?
The last trend is the future projection of employment for STEM fields, which deserves something between a snort and a chortle. The same people that project these trends are the same people that say the recession ended 18 months ago. No further explanation is needed.
My conclusions from this part of the report are mostly negative, contrasting the administration's take on things. But there is some hope. Let's look at the education level premiums.
Education Level Premiums: One aspect of the report that does show some good news is the higher earning potential of STEM workers. Personally, I'm not shocked by this, but it's nice to see confirmation of anecdotal evidence. What's really interesting is the premium placed on having at least some college education. For non-STEM workers, if you've completed some college, you're looking at $39.5k/yr and if you complete your degree, that jumps to $58.8k/yr. But if you're a STEM worker at that level, you're looking at a $15.8k/yr bump in salary. As a college professor, that's evidence enough for me to say "get some technical training for a STEM field and you're better off in the long run".
For graduate degree holders, the picture isn't quite as drastic, $85k/yr for STEM versus $75k/yr for non-STEM. This is probably more indicative of the salary increase dropoff as you put in more time at a company. Chris has blogged about this in the past where payscales tend to follow log profiles rather than linear profiles and Fluxor's Salary Case Study shows it is at least somewhat true. I've also offered some thoughts on the subject when I discussed whether Grad School is worth it. But basically, if you're highly educated and you're in a STEM field you're probably not hurting if you have a job.
In Conclusion: I have mixed feelings and impressions of the jobs report. The salary components describe a situation that I was fairly confident that I already knew. It's nice to have some numbers but overall, I expected those numbers. But, the trend that highly educated STEM workers have the same odds of being unemployed as non-STEM workers is unsettling. I've said this before, but I'll say it again: We shouldn't be giving billions in tax breaks for equipment and we should start giving tax breaks for hiring and training employees. That's one way to add employee knowledge to the balance sheet. Companies and our economy need skilled workers that can create and innovate but our current policies only allow for investing in things rather than people. Reversing that trend is something that with help both STEM and non-STEM workers.