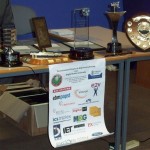 Over the last few weeks I've been talking about the Schools Contest held by Chelmsford Engineering Society (CES). The first week I explained the basic background of the contest and then how I take part in the judging process. Well this week its awards time and we get to see who has won!
Once again our hosts are Anglia Ruskin University who help out lots with this and other CES events. There was also lots of support from the sponsors including my company ebm-papst UK Ltd who also supply one of the trophies (full list of sponsors at end).
The award winners came along and one again put on a great show of the work they have done. For me like some of the other judges it was our first opportunity to see some of them or have a long chat about the work. Its hard to take in 50 projects in one day, but with the combined results from 42 judges we get to see the ones that really stand out at this event.
So to the results and were relevant I have pictures which you can click on to make larger.
Yrs 7-9 Design Highly Commended went to Hermonine, Sue, Chrissy and Chole from Westcliff High School who designed a shock wave absorbent phone case.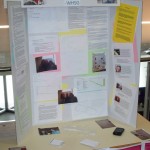 In system and control the Winners was Daniel and Joseph from King Edwards VI who designed a hovercraft look alike design. The idea was to design a product that could move without wheels. The fans push the product along which sit on three drawing pins.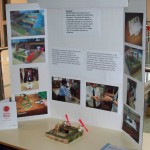 The runner-ups for this age group was Ashleigh, Manon, Tara and Maisie from Westcliff High School who designed a hygienic way of dispensing toothpaste on to your toothbrush and then a way or cleaning and storing it after. These girls were also in my view the most politest children I have ever meet! Great work!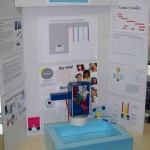 In the years 10 to 11 Design came Katie from Beauchamps High School in first place with here design that uses recycled CD's to form a lamp. Its hard to tell from the pictures but the build quality of this is very good!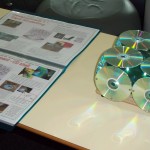 In the system and control Category was Ryan from King Edwards IV, who designed a shake-to-roll electronic die. Unfortunately I did not see this at the contest and he was unable to attend the awards so I have no pictures and can't tell you what it was like – however others said it was very good!
For years 12-13 the winner was Lauren from Chelmer Vally High School who designed a bed side lamp for reading. However it was design so you could hand your book on it, with the page your up to, and it switches the light off. Sorry but no pictures but It was very well designed and built. My son who was with me and is a avid reader was very impressed and think would have run off with it had he had a chance!
In the system and control side can Callum, Ahnya, Nathan and Samuel from Greensward Academy who modified a remote control plain to have a on board camera that transmitted to the ground over 2.4GHz were the signal was converted back to a video stream. Was a very nice build of system parts and from the video on show looks like very good results too. Had only the weather on the day been better I may have asked for a live demo!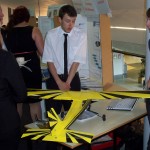 On top of the normal school age groups there are two other categories for older students. The first is the Apprentices group which was won by Chris, Mike and another Mike. I commented on the work Chris did in my last blog but just to say again what a fab job he did with the electronics and built of the project. This was a Intruder alarm that uses a wireless PIR sensor and is all programed in assembler on a PIC. Chris and team was from Selex Galileo in Basildon Essex.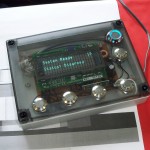 The last category 'school showcase' was a real treat and was not a surprise that the winner was Emily, Tim, Mike, Anna and Ed from St John Payne School who are collectively called 'Dynamic' and are a F1 in Schools Team. There is just not a blog long enough to explain the detailed workmanship and level these guys have got to. They are already engineers and are displaying it with these high speed race cars. They are winners in the F1 contest for the UK twice now and came 4th last year in the world. Lets hope these guys do well in September in the finals!
I've not commented on other runner ups because there are so many. However in this category there was one group that despite cumming in second behind 'Dynamic' achieved a score that was the second highest, larger than any other category on the day. So to me Laura, Fiona, Rachael and Olivia are true winners. From Chelmsford County High School they designed and built a wireless PIR system to display movement in classrooms around the tech area on a single display. They have put together a very impressive design using simple hacking and off the shelf modules. Unfortunately none of the girls want to be electronics engineers which is sad, but are all going into engineering in other ways – Oh well! :o)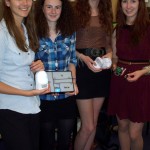 To all the award winner I say well done and I'm glad to see the contest is getting harder and harder to win each year – the project are getting very good. Well done to all that took part!
The full list of Sensors for the event was:
Anglia Ruskin University
BAE Systems
ebmpapst
Visteon
E2V
Finmeccanica
Chelmer Valve Company
Selex
Digital RF
Castrell
ics triplex
M&G systems
EDS Engineering
The IET
PA Counsulting Group
explore STEM
Ford