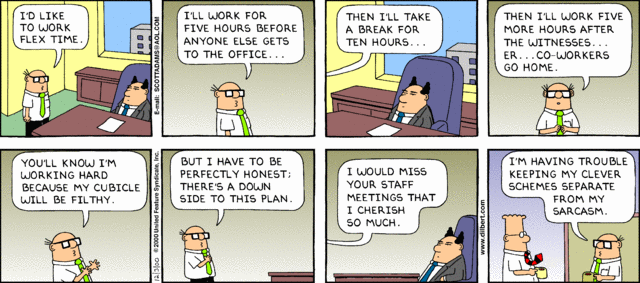 This past week, I've been having to work a very odd schedule because my babysitter took a week of vacation. I'm very fortunate that my supervisor and co-workers have all been very accommodating.  I've been able to put in most of my time this week before everyone else gets into work, and the time I did have a meeting, my coworkers were able to tolerate the presence of my seven-year-old while we discussed some of that 'boring engineering stuff'.
This flexibility also extends to my coworkers. One recently went through the illness and death of a parent.  He had to take time off on a regular basis to bring his mother to various doctor visits and then more extended leave when she passed away. Another coworker lives on a farm and regularly comes in and leaves early to take care of work at home.
Over the years, I've known quite a few people who have gone into engineering and computer science.  I expected the two fields to have similar expectations, but I was apparently wrong. Most of the CS types have landed jobs with flexible schedules and a lot of telecommuting options. The engineers have usually ended up on very set schedules. Despite being on salary, many of them are dinged for utilizing that flexibility and working less than 40 hours after a weeks of 60+ hours. (These long work hours have been noted as one reason more women than men leave engineering, although, as noted above, flexible scheduling can benefit men as well as women.)
Of course, the ones in academia have also had flexible schedules, but they have to deal with the fact that, no matter how flexible their schedule is, they somehow need to get in 70-80 hours per week. Likewise, those who telecommute have often had to deal with the unspoken rule that it doesn't matter where they do their work, they are still expected to get a significant amount of time in. Sometimes they feel as if they can never leave work behind.
What options have your employers offered you in terms of flexible scheduling and have you been able to use it effectively? Is flexible scheduling one of the criteria in choosing a job?