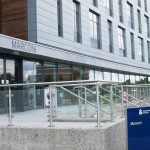 Last week I introduced the Chelmsford Engineering Society (CES)  Competition for schools. As I said before, I was one of the judges, and this week, I want to report back on what I have seen and what stood out.
Before I show you the entries that stood out, I first want to run though the background information about the contest so you better understand the whole day.
My day started at the Marconi Building, which is on the Anglia Ruskin University complex, at 8:15am for registration. I was one of 42 judges taking part on the day. We were being supported by members of the CES, who were organising and helping log scores. We are all paired up with another engineer who we have not meet before; I was with a chap called George who, in his day, used to make TV Camera tubes before it all went solid-state. Each pair is then given 6 from the 50 projects on display to judge and score. It takes a lot of time to review each project, so even getting though 6 is hard work.
The entries are arranged by age and class. The classes are either for Design and Build or System concept. The age groups are [school] years 7 to 9, 10 to 11, 12 to 13, and then Showcase, which is typically apprenticeships or 6 form college. For each age group, there is a class to be judged, so there are 21 prizes (1st, 2nd & 3rd) up for grabs.
For each design, we have to carefully review several areas. These areas include: identifying needs, project plans, research and prototyping, fabrication, test and evaluation, looking at improvements, and how well they presented themselves and their project to us.
So what did I see? There was lots of great work done by the kids of these schools. There was everything from a dental hygiene machine that dispenses toothpaste and then cleans your toothbrush, created by a group of year 7-9 girls; lights made from recycled CD's; and even a drum-kit storage system. But I can't talk about all of them, so here are a selection of my favourites.
A young lady who is in year 10, who's name I sadly forgot to ask for, built a robot-wars style robot from two old Battery drills as well as a few driver PCBs. She then controlled it using a stock RC transmitter and receiver from an RC car. The Driver boards are kits that have to be built up, so I was impressed that having little soldering experience got these working first time.
[Note: Click on any picture to see it full size]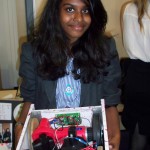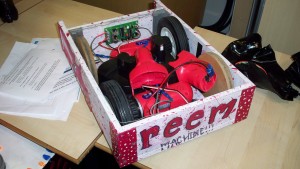 The next project was from Chelmsford County High School by Laura, Fiona, Rachael and Olivia, who did a nice hack of a PIR alarm system into a wireless movement detector. They took some standard PIR detectors and added some ZigBee transmitters to them, which were triggered by the PIR LED coming on. At the receiver end, they used a ZigBee Demo kit which they had to program to respond to the ZigBee Nodes and then turn on the LED's in their display box to indicate where movement was being seen.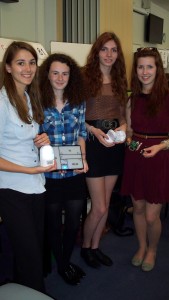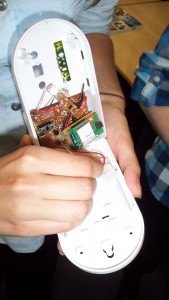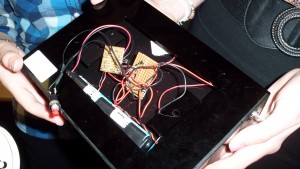 I liked this because they had taken a product already in common usage and hacked the design to work the way they wanted it to operate. It's also really encouraging to see not only this group of girls but so many others at the contest, all really keen to get into engineering!
The next of my favorite projects was from three apprentices, Chris, Mike, and another Mike who are at Selex Galileo. They built, from the ground up, a wireless intruder alarm system.
The remote PIR movement doctors, as I said, were built by hand using a MAXIM chip that was monitored by a Microchip PIC. This used an off-the-shelf RF unit to transmit to the base station.
The base station was Microchip PIC controlled and used an RF receiver to monitor the remote nodes. It also included a four line display with a nice menu system. You can see that it uses the iButton device that allows people to arm and disarm the system as well as use a key code. I liked this project because it's so close to what I, as an electronics engineer, do everyday. All the code was written in assembler, and the prototypes were built by hand: there was no recycling of a kit here.
The last project I saw was from a group of five from St John Payne School: Emily, Tim, Mike, Anna and Ed (who was unwell on the day so did not get to meet him). They form a group called Dynamic and compete in the F1 in Schools contest.
F1 in Schools is all about getting kids to design and build small Worden cars. These are fired along a 20 meter track to get the fastest time. It may sound simple and a bit silly, but these cars travel at speeds over 60mph making aerodynamics very important. Talking to a group of 16/17 year-olds, I have to say I was a little confused. These guys talked like they were in their late 20s and had been doing engineering for years. They talked freely about CFD,  designs for the wheels, types of paint to use etc, etc.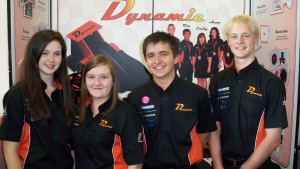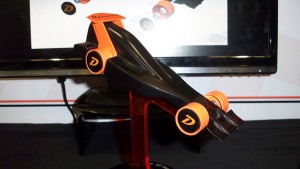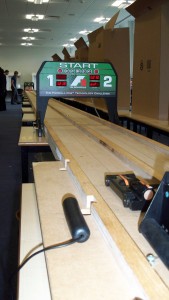 Last year, these guys came 1st in the UK regional and again 1st this year. In September, they are off to the other side of the world to again compete in the finals. This year they look to better their 4th place and possibly bring home a win.
I and the other engineers were blown away by their workmanship and engineering skills. Never have I meet a group of kids so excited about engineering. In fact, my meeting with them was so interesting that I'm going to do a whole blog about them in the next few weeks.
So who won on the day? I have the provisional results, but you will have to wait for two weeks when I will be doing the last of these blogs on the School Competition after the awards day.