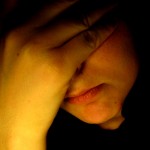 Making mistakes is easy, I do them all the time! However, what we do about them is more important. In this week's theme of "mistakes," I can easy spend time telling you about the mess I have gotten into and how I should have been more careful, but there's nothing I can do about them. So I want to talk about keeping face after making mistakes.
We all know that moment when your heart sinks, your skin turns cold and you start to sweat. Your first reaction is "Oh God What Have I Done!" and then you start to pray no one else has seen your massive mistake and your hoping you can run away and hide – no one will notice will they? It's not your fault, it has to be someone else who fed you wrong information! Or some faulty device or the fault of the technician – yes, he will do as the scapegoat!
The reason you are feeling like this is because you hate being told you're bad at something and we are all looking for reassurance and approval from others. To go and tell your peers you have made a major **** up is just going to be really embarrassing! I mean they will see you for who you are and how will they ever respect you again?
Thank god we are engineers and not bankers! As engineers we know better and I bet everyone reading this knows the right thing to do – own up!
Keeping face, however, is hard and just as hard as owning up to what you have done. However, it's important you do it in a controlled way. In some cases, every second counts! If someone else spots it before you open your mouth, you will forever feel that you only confessed because someone else found out first – or at least you will be thinking that's what everyone else thinks of you.
So strike while the iron is hot – if that means swearing out loud and calling yourself an idiot then do it! We all make mistakes — some big, some small — but you will find others are willing to support you. This will help you to feel you are not alone.
Then you have to tell someone, maybe your boss, that you have just killed two weeks work and hundreds of dollars / pounds of kit. Again, do it and do it now – remember there are people who will enjoy telling your boss what a major mess you have got into. Its also important you do it to their face – not by email!
So make safe and limit the damage and that could first mean turning the kit off! Look at what you have done and then importantly think about why you messed up and how you are going to recover the situation. Then go tell your boss; he will not be happy, but you will keep your face if you're an engineer about it.
Tell them everything in black and white and own up. You know it's your fault so don't go saying "well if so-and-so had only" because you have to take full responsibility for your actions. Explain why you have got yourself into this mess and explain how you have learnt from it – what will you do next time, could you help stop others from falling into the same trap?
You them need to explain your way out. Ask for help! Just because you messed up does not mean its up to only you to fix it – OK it is, but you should get help! You may need the help of other or just someone to check that once it's fixed, you have done it correctly.
So whatever you have done, learn from it, own up, fix it and move on. Tomorrow, you may be helping someone else out of a hole and one day you may even be bragging about the time you made a mighty mistake!