Last week I talked about keeping track of your work in lab notebooks. There were some great comments on alternative systems, such as PowerPoint slide decks, simple memory, README files or digital scripts, or cataloged data in folders on the laptop.
So that's all well and good for writing down what you do – but how about keeping track of WHEN you need to do things, as well as what you've done?
For scheduling meetings and events, I still like using a paper calendar.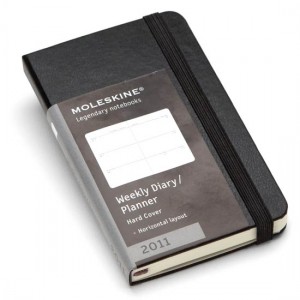 But I think I'm in the minority in that regard – most of my colleagues use Outlook, or Google Calendar, or some other online system. I've tried to go online (as with so many things these days, to the cloud!), but it's just not my preference. I've used Tungle with classmates before, which is a group calendar that can coordinate between lots of different online calendaring systems.
What about scheduling for tasks that need to be completed, not just meetings? I guess that really comes in two parts – first you need a To-Do list, and then you need a timeline for completing them. Here again there are many, many options. Those in the corporate world may use Microsoft Project for this purpose, or other group project software.
Personally for To-Do lists, I still like the paper list. But that did (sadly) get unwieldily eventually, especially as I have more and more categories of tasks (personal, research, student club, social activities, conference organization, side projects, etc.). So I adore Remember the Milk, which does practically everything, syncs with everything, and is accessible from anywhere (desktop, web, mobile, dashboard on the Mac, etc.). But there are a huge number of To-Do applications available, and I'm curious what you readers might use.
Then once you have a list of tasks, you need to decide when to do them. For my research, I use Gantt charts. I have a Gantt chart for my entire PhD timeline, and when my advisor  asked me to write out a schedule for the summer, I made a Gantt chart just for the next few months.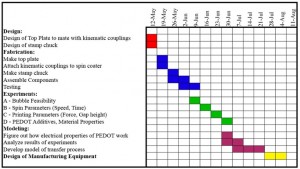 Most of my labmates have no idea what a Gantt chart is – and I realized that I am familiar with them only because I had a college roommate who was an industrial engineer, and industrial engineers use these all the time. Basically, it's a chart with tasks down one side, and dates across the top. Tasks can be charted by start date, end date, and duration, even if the tasks overlap in time. Generally milestones are also included as zero-length time points.
On a fancy Gantt chart with proper software, you can even handle scheduling tasks that depend on the completion of an earlier task, and you can assign priorities to more important tasks. The benefit of having the fancy version of the chart is that you can plot the "critical path," which as a manager in a large project will guide you to the best place to spend money and time to avoid bottlenecks in the project. In addition, the chart is just a nice way to present a project as a whole, and to give you a snapshot of where you should be on any given week.
What do you use for scheduling and To-Do lists?