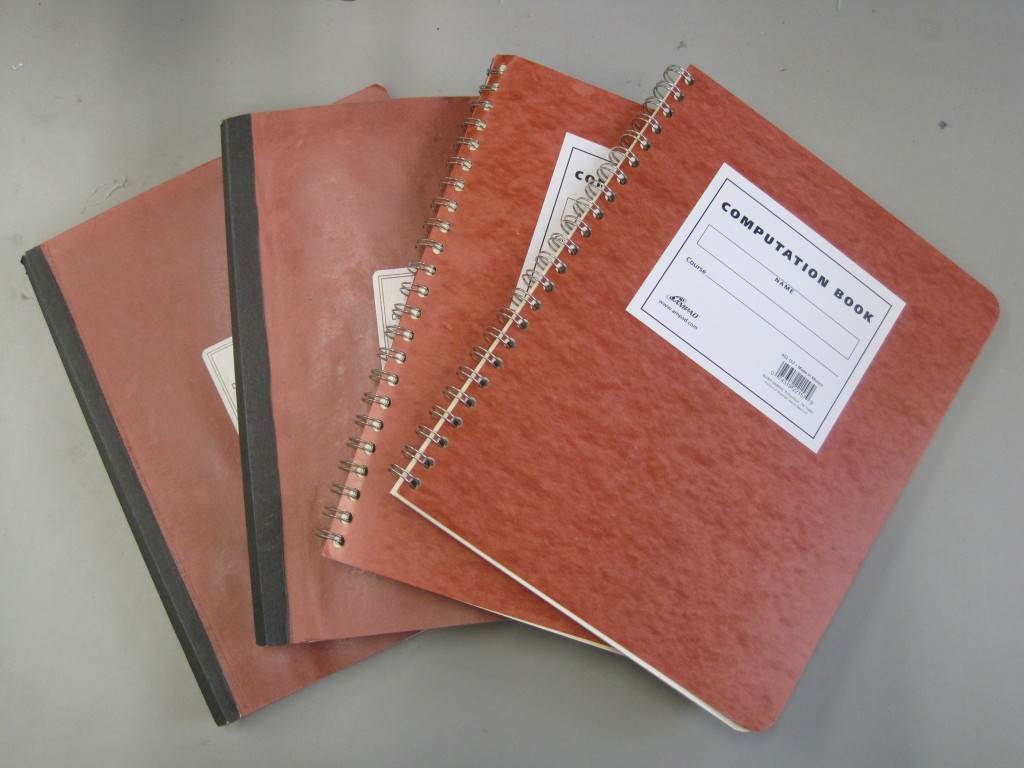 Just today I turned over the first fresh page in my brand new lab notebook, having filled up my last one. This is lab notebook number four for me, in my four years so far in grad school. It's a fantastic feeling when you have accomplished enough (or, at least WRITTEN enough) to fill another notebook.
In my undergrad Intro to Engineering class, I remember we spent an entire class period on documentation and proper lab notebook protocol. At the time, I mostly assumed that keeping good notes was important so that a) YOU could remember what you were doing, and b) so OTHER people could figure out what you did after the fact.
Then in grad school, I took a product design class, and we again spent an entire class on lab notebooks. Now, though, the reasons were different. It's imperative to document well so that a) if you invent something awesome, you can prove it, and b) so that in a court of law, you can defend any patents with your name on it.
So it seems that lab notebooks are important. Here in grad school they are ubiquitous – the brown cover, the yellow ruled pages, even the smell is always the same. I'm not sure if other places have notebooks that look different, but I suspect the design is fairly standard (just like Composition notebooks in grade school are fairly standard). In fact, engineers and surveyors have been keeping field books since the beginning of the industry, and I doubt the look has even changed much since the 1800s! Field books for scientists, like Moleskines for artists and writers, have stood the test of time.
The proper lab notebook rules as I learned them are as following. For the physical notebook:
1) Must be numbered pages (so that you can tell if any pages were removed/added)
2) Must be written in pen (again, so you can see any changes)
3) If you want it to be legally defenisble, every page must be signed and dated by you and a witness
4) Not required, but from experience – the ring bound is highly superior to the book bound. Folding in half is incedibly useful, I don't know why it took me two notebooks to figure that out…. 🙂
And then for the content, you should record:
1) Design ideas and sketches, even just brainstorming
2) Experimental protocols
3) Experimental results
4) Not required, but from experience – I record notes from my weekly updates with my advisor. That way I can remember what he asked me to do, and I can remember when I told him I would have what done by which date. 🙂
I am terrible at remembering details, so I write everything down. I can't tell you how many times I've looked back at wiring diagrams, or machine settings for experiments. I've never regretted writing things that later become irrelevant – paper is cheap in the grad scheme of things, and it's much more important to get your thoughts recorded.
I know labmates who are required to leave their notebooks with the lab when they graduate, and in that case they function as a historical record. I know labmates who are in the design field, and they keep the lab notebook with the intent of using it as backup for patent applications. For me, since I don't expect to get a patent (although, maybe, you never know?), and I don't have to leave my notes as a historical record, my main purpose is practical – to remember what color wire has the 120V running through it, for instance…
How do you document your work? Even if you don't work for a lab, everybody keeps records of their work somehow. Is it weekly memos to your boss? Memos to yourself? A binder with papers for each project? No records, just hope that a search of your computer comes up with what you need?