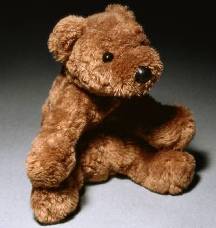 As a mechanical engineer I tend to focus mostly on the mechanisms that actually do the work. Sometimes it's easy to forget about the components that take the work.
I'm talking about bearings. They're so essential for many things with moving systems, from everything to your car to a simple valve. The purpose of a bearing is to allow relative motion with a minimum amount of friction. On that end, the material for the bearing can become an incredibly crucial point. For high stress applications it needs to have good tensile and fatigue strength. But in order to absorb energy and not damage surrounding components you also might want it to be soft and with a low melting point. If you're dealing in the aerospace industry you can bring in a third complication: weight.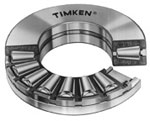 Bearings can be anything from a simple roller ball style to a flat plate bearing. Plates can serve not only as taking wear and allowing movement but also being structured so as to guide the moving components around it.
Sometimes a taper bearing can be incredibly useful as well. When dealing with rotational motion and the tapered edge will actually guide the wear so that it gets even exposure to stress. When using a roller ball style it's easy to see how the piece could be easily lubricated.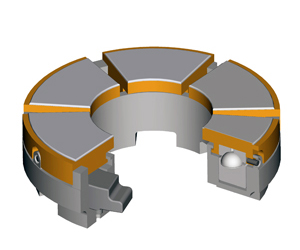 But when dealing with a flat plate style, it's important to think about channels to get oil and lubrication to your bearing. Once you lose oil flow, even with an incredibly strong bearing material you'll likely move very quickly to failure. Plates like the one on the right usually involve several elements that are directly exposed to other surfaces, sometimes referred to as pads, with ports able to vent oil inbetween and through the system.
Referred to as film lubrication, the oil coming into contact between the bearing and the surface of the moving part will have its own shear stress due to its velocity. Because as velocity increases the viscosity of the lubicrant will decrease and the coefficient of friction will rise causing the contact between the bearing surfaces and the material to become more important than the inherent viscosity or chemical composition of the lubricant. So while lubrication is key, the design, shape, and material of the bearing remain vital to keeping your mechanism running without any failures.